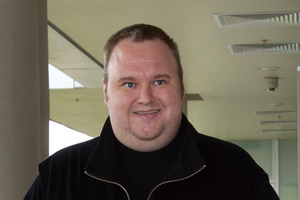 Kim Dotcom has won more time to make his album after bail conditions were relaxed for visits to the recording studio.
The court is also considering allowing the internet tycoon to move back into the $30m he rents north of Auckland.
The latest moves in the Auckland District Court today follow further allegations of Crown blunders in the case.
A two-day hearing in the High Court at Auckland ended with chief judge Helen Winkelmann ordering the Crown to come up with an explanation over why evidence was given to the FBI to take back to the United States.
Crown lawyers, acting on behalf of the FBI, had previously said nothing would be sent without Dotcom and his three co-accused being warned.
Following the hearing, Dotcom along with Finn Batato, Mathias Ortmann and Bram van der Kolk returned to court to seek a change to their bail conditions. The three are under effective house arrest until an extradition hearing in August.
Dotcom, who was granted longer recording sessions at Neil Finn's Roundhead Studios, was told there was no opposition to him moving back into his former Coatesville home.
The mansion had earlier been ruled out as a possibility for a bail address because it did not allow proper electronic monitoring.
However, the court was told Dotcom had complied with his bail terms without exemption and it was time to consider relaxing electronic monitoring.
Dotcom, wife Mona and their seven dependent children currently live in a neighbouring property which he also owns.
A decision will be given next Tuesday.