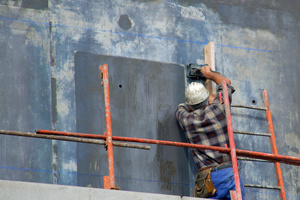 A veteran protester who has barricaded himself in an abandoned and dangerous apartment block in central Wellington says he will stay there until he dies.
The 131 residents of the Housing New Zealand-owned Gordon Wilson complex on The Terrace were given eviction notices two weeks ago due to the risk of the facade collapsing in high winds or an earthquake.
The last tenant left yesterday morning but protester Benjamin Easton has barricaded himself in a fifth floor apartment since Tuesday night.
Police were called to remove him yesterday morning but he refused to leave.
Senior Sergeant Steve Dearns said Housing NZ was dealing with the matter and police would not become involved again unless requested.
"We are taking no further action until asked to basically, or we deem it necessary to take action, and we don't feel that's the case at the moment.''
A Housing New Zealand spokeswoman said Mr Easton was not a tenant and was trespassing on the property.
"His actions are putting himself, Housing New Zealand staff and police at risk. We are working with the police to resolve the situation.''
Security staff were on site but the spokeswoman would not comment further on what was being done to prevent people from entering the building.
Mr Easton, who took part in the Occupy Wellington movement and was a vocal opponent of a new bus route in Wellington, said he wanted the tenants to get compensation for inconvenience and relocation costs.
"They're locking me in, they won't give me free access. I've only got limited food, very little food,'' he told APNZ.
"I'm not moving until the Government or these ministers become responsible.''
Mr Easton said he had 10 cans of beans, some baking soda and some walnuts.
The flat still had still running water but the power had been cut off.
Mr Easton said he had gone on hunger strike in prison before so he was familiar with not eating.
He said former tenants supported his actions and he did not believe the safety issues cited by Housing NZ were behind the evictions.
"It's ludicrous, it was a ruse to get everybody out so they can have the real estate. There's nothing human about it at all.''
A Housing NZ spokeswoman said the complex is to be handed over to an asset management team which will assess the property before any decisions are made regarding its future.
The majority of tenants have been rehoused by Housing NZ but a shortfall in available housing has resulted in Wellington City Council providing extra homes for those evicted.
Some homes were only temporary and tenants would have to move again in six months when suitable Housing NZ properties were found.
- APNZ