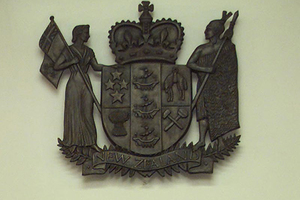 A young man who urinated on a wall at the entrance of the Greymouth Courthouse admitted in the court's dock yesterday that he was "stupid".
Lucas Duncraft, 20, admitted charges of offensive behaviour and breaching a community work sentence.
At 3.15pm on April 24, he bypassed the public toilets inside the courthouse and urinated against an outside wall near the main entrance, in plain view of court staff. He then ran off, and when spoken to by police denied the offence.
Regarding the breach of community work, probation officer Kerry Aston said Duncraft had been sentenced to an extra 40 hours in early April but had completed merely 30 minutes.
Judge Noel Walsh threatened Duncraft with a prison sentence.
"Ready to go, got your bags packed? What a disgusting thing to do. You won't be piddling on walls (in prison). Who do you think you are?"
Duncraft replied: "A stupid person."
He was fined $180 for the obscenity, sentenced to a further 40 hours of community work, and warned that he would go to jail if he does not complete the sentence.
"If you don't, you will be brought back here and you had better bring your suitcase with you," the judge warned him.