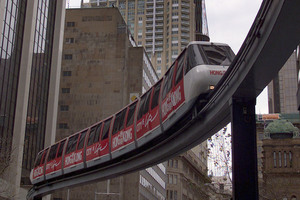 Hamilton should buy Sydney's monorail and install it in the city, running from the public library to Hamilton Gardens and back, a resident says.
Grant Stantiall put the plan to city councillors during the final day of submission hearings for the draft long-term plan.
"They had this 'the Tron city of the future' slogan floating around for a while, and maybe we need to think a little bit beyond what we are.
"Monorail has been around forever but no one in New Zealand's got one. I thought why not?"
The 3.6km Sydney monorail is to be dismantled to make room for a new convention centre at Darling Harbour and Mr Stantiall said Hamilton should consider offering "a cheeky price" to bring it to the Waikato as a visitor attraction.
The monorail was at the end of its economic life, according to New South Wales premier Barry O'Farrell whose government bought it for $19.8 million.
Mr Stantiall's submission comes at a time when the council is proposing to sell dozens of assets to repay debts.
But the administration manager said it could be just the ticket to lift Hamilton as a tourist destination.
"It was just an idea pitched there to see if it would spark anyone's imagination."
Once the monorail was up and running Mr Stantiall suggested a co-ordinated water taxi service on the Waikato River, ferrying passengers from a park-and-ride at Flagstaff, in the northern suburbs, to a monorail stop on Grantham St at the southern end of the central business district.
The boats would be for commuters and tourists, providing another transport link between the city and the suburbs, he said.
The 47-year-old acknowledged the submission, which provided no costings, was one of the quirkier received by the council during the week-long hearings.
"If someone decided to take it up and run with it that would be great."
However, Mr Stantiall wasn't expecting councillors to give his submission serious thought.
"I went in there thinking to myself if they ask how much it's going to cost basically the thing would have gone down like a lead balloon.
"But it was just there to maybe inspire some different thoughts about what we can do."
Other unlikely suggestions from submitters included moving Seddon Park cricket ground out of the city to make way for housing, and erecting statues and sculptures to record Waikato history in art for future generations.
The council must adopt the 2012-22 10-year plan by June 29.