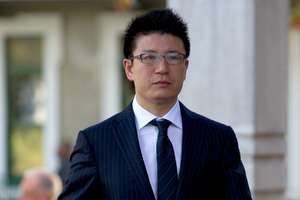 Labour MP Shane Jones says he granted citizenship to Chinese businessman William Yan on 'humanitarian grounds' and would be relaxed about having that decision tested to see if the Yan really was "a Hannibal Lecter immigration applicant."
Mr Jones broke his silence on his 2008 decision yesterday after Yan's trial in the Auckland High Court wound up yesterday.
Yan - also known as Yang, or Bill, Liu and Yong Ming Yan - was on trial in the High Court at Auckland after pleading not guilty to four charges relating to false declarations on immigration papers in 2001 and 2002 and one of using false written statements to get citizenship. The Court is expected to make a reserved judgement on Thursday.
Mr Jones said he knew there were issues about the multiple identities Yan had and the Interpol red notice about an arrest warrant for Yan in China.
However, after considering submissions from officials and from John Billington QC on behalf of Yan, he based his decision on "humanitarian grounds" which he could not expand on until the court case was over.
"If this guy really is the equivalent of some kind of Hannibal Lecter immigration applicant, then take it to court. [The court] can make the call."
Mr Jones said his role was under question again only because government officials had raised his name in the court case.
Mr Jones has already disputed some of that evidence, including that he made the decision only one day after it was referred to him. He has said it was almost a month later.
Mr Jones said he had not dealt with the issue of Yan's residency status, which officials had recommended be revoked in 2007. Then Immigration Minister David Cunliffe had dealt with that and sent officials back to investigate the allegations against Yan more fully.
Mr Jones could not recall whether he knew that Immigration officials had recommended Yan's residency be revoked. He said as far as he recalled, he was not briefed by the Immigration Department or then minister David Cunliffe.
He said he also saw support letters from then National MP Pansy Wong, an Act MP, and Labour MPs Chris Carter and Dover Samuels.
Mr Samuels had also raised it in Parliament "but other than that I can't remember discussing much of it."
Asked if the relationship between Jones' ministerial staffer Daniel Phillips and Phillips' brother Shane Te Pou, had any bearing on his decision, he said "absolutely none."
Mr Te Pou gave evidence in court that he had helped Yan with the citizenship application and introduced him to then Internal Affairs minister Rick Barker.
Mr Barker subsequently transferred the decision to Mr Jones because of a potential conflict of interest.
Mr Jones said he was not concerned by criticism of Mr Shearer's handling of the situation by Prime Minister John Key.
"I can understand Prime Minister Key wanting to see someone like myself stood down. It's the politics of utu. We have a crack at John Banks, they have a crack at Shane Jones."
Mr Jones said he had not apologised to Mr Shearer or his caucus, but he had given them an account of what happened.
"Noone wants to be caught in the midst of such a maelstrom. I don't think it's necessary to run around apologising to the leader, but to give an account of what my role was and ensure that role does not end up shanghai-ing what the man is trying to achieve."
Shearer rejects hypocritical claim
Shearer has rejected Key's claim he is being hypocritical and says he would stand his MP Shane Jones down if Mr Jones was under police investigation.
Mr Key yesterday said Mr Shearer was hypocritical by criticising Mr Key for refusing to stand Act leader John Banks down during an investigation into donations he received during the Auckland Mayoralty campaign.
Mr Shearer said Mr Jones had assured him he had followed proper processes.
"However, if someone wanted to have an investigation, we wouldn't in any way stand apart from that and would cooperate with it."
He said he could not call an investigation himself.
"So the question really is what has he done wrong? As yet, there is no indication he has done anything wrong."
Mr Shearer said he was satisfied the process Mr Jones' followed was proper, but it was up to Mr Jones to account for the decision he made.
He said the difference between Mr Banks and Mr Jones' cases was that Mr Banks was
under police investigation for not disclosing donations he received from Kim Dotcom in 2010 - donations Mr Banks has said he was not aware of. He said Mr Jones' name was raised during Yan's court case but there was no allegations he had done anything wrong.
"If a Minister was under police investigation, I would want to stand him down. If Shane Jones was under police investigation, I would certainly stand him down. It is important to maintain high standards in Government. When you have got a minister under a police investigation and that minister is still taking decisions as part of a Government, then I think that raises some quite important questions."
He said Mr Key had waited before asking John Banks about the donations from Dotcom and even then had not done so personally. He had asked Shane Jones as soon as the case was raised in Court