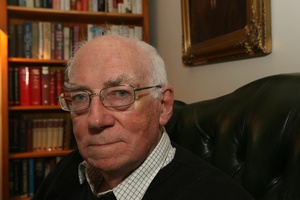 An arrest over the death of veteran journalist Derek Round has come as a "huge relief" to his shocked and grieving family.
Police charged a 31-year-old unemployed Wanganui man with murdering Mr Round this morning.
Michael Werahiko, 31, made a very brief appearance in the Wanganui District Court this afternoon.
He appeared before Judge Dugald Matheson on charges of murder, disorderly behaviour causing violence and threatening to kill/GBH.
Werahiko appeared calm and expressionless as he was remanded in custody without plea to reappear on June 6.
A statement released by Mr Round's family thanked the police investigators assigned to the case.
"News of the arrest is a huge relief.
"We are still in shock but with the help of family, friends and police are continuing to deal with things one step at a time."
Detective Senior Sergeant Dave Kirby said the arrest was a "significant step" but the inquiry into Mr Round's death was continuing.
"Work is also ongoing to establish whether more than one person was involved in Derek's death.
"Today's development is the result of a big effort by the investigation team and I would like to thank the public and media who have assisted us.
"However we still need your help and the team remains focused on the missing bits of the puzzle and finding answers for Derek's grieving family."
Mr Kirby said police were still looking to locate missing clothing thought to have been worn by a person involved with Mr Round's death.
They were also seeking more information about the movements of Mr Round's distinctive blue Jaguar car between Wednesday evening and Thursday morning.