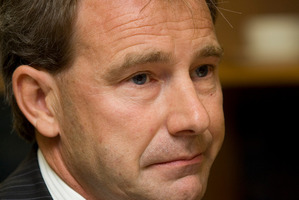 Protesters are being marshalled to oppose a meeting at Waitangi when the results of an aerial survey identifying Northland mineral resources worth "hundreds of millions of dollars" will be disclosed.
Dean Baigent-Mercer, of Whangaroa, was yesterday organising the assembly of protest signs at Waipapa in preparation for a big turnout at the meeting.
Mr Baigent-Mercer said there was wide opposition to mining metals like gold and silver as the industry created huge amounts of toxic tailings which could pollute water and soils for centuries.
Protesters are expected to assemble in the Shippies restaurant carpark at 11.15am on Wednesday.
Whangarei MP and Minister of Energy and Resources Phil Heatley will be a key speaker at the meeting in the Copthorne Hotel from 12-2.30pm when information from the Northland survey carried out last year by the Australian firm Aeroquest Airborne will be released.
He said yesterday the results of the survey were more far-reaching than expected.
First, it had identified reserves of valuable metals such as gold, silver and copper worth "hundreds of millions - not tens of millions - of dollars".
It had also located aquifers and identified soil types - information extremely valuable to Northland agriculture - and mapped geological risks such as fault lines, valuable data for road builders and other industries. Asked about fears mining could cause pollution on a massive scale, Mr Heatley said the key to the process involved accessing valuable minerals in a safe and environmentally sustainable way.
"The days of open cast mining like Waihi are all but over. Most mines these days have pinhole entry tunnels with any disruption on the surface reinstated when underground mining is finished."
Schedule 4 land - most highly protected land in the conservation estate - was excluded from the aerial survey, which was funded by $2 million from the Ministry of Economic Development plus $100,000 from the Far North District Council and Northland Regional Council.
Mr Heatley said his ministry officials were working with councils to identify areas of particular natural interest which should be excluded from mining.
His officials were also working with iwi to make sure all wahi tapu sites were identified so they could be placed out of bounds for mining.

For more articles from this region, go to Northern Advocate