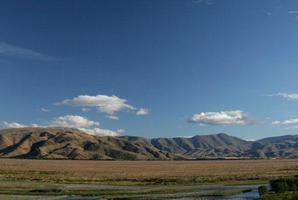 Family and friends of Dunedin tramper David Palmer, whose body was found on Saturday in North Otago's rugged Ahuriri Valley, have thanked the many people who "helped bring him home".
"Amid the grief there is relief that Dave has been found. Thankfully he is coming home to us," close friend Elisabeth Lukeman said last night.
A post mortem examination in Dunedin today would attempt to determine how the 53-year-old died, Omarama police Constable Nayland Smith said.
Mr Palmer, the University of Otago Health Sciences Library team leader, went missing two weeks ago when he failed to return from a three-hour trek on the Ahuriri Conservation Park.
Search and rescue teams and volunteers continued to search for him in the Dingle Burn Track area, despite hopes of finding him alive fading as time passed.
His body was found at 11.30am in a creek bed at the bottom of a 60m bank, in an area known as Canyon Creek, Mr Smith said. Canyon Creek is about 3km from the Dingle Burn Track.
Mr Smith, who searched on his day off on Saturday, was part of a team of more than 20 volunteers including members of the Omarama, Waimate, Oamaru and Dunedin search and rescue groups, two search dogs from Dunedin and their handlers, and a friend of Mr Palmer's.
The search had been a "huge" operation, he said, with Omarama SAR members alone having spent 400 hours searching the area. Mr Palmer's family organised a private helicopter to assist with the search, and the owner of the nearby Dunstan Downs Station donated his own helicopter and time to help out.
Mr Smith said he was "in awe" that Mr Palmer's body was found.
"From the creek bed to the top is about 60m and the bank is on about a 50-65 degree angle."
A specialist mountain rescue team and chopper were called in to recover the body.
Mr Palmer, described by Ms Lukeman as "a resilient, experienced tramper", was raised in Oamaru and educated at Waitaki Boys' High School.
She said Mr Palmer's family and friends wanted to thank everyone who had been involved in search - search and rescue, police, volunteers, the Omarama community which provided searchers with meals, and the helicopter company which donated its time and helicopter.
"They have been amazing and we deeply appreciate their dedication and determination to bring Dave home."