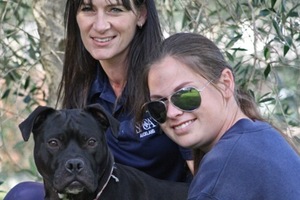 An emaciated dog found bleeding from her ears, eyes full of conjunctivitis and locked in a faeces-filled garage is up for adoption.
After her ordeal, Coecoe the crossbred boxer just wants a loving new home.
SPCA Auckland has been taking care of her since last July, when a neighbour reported the dog wasn't being treated properly by its owner.
An inspector found Coecoe locked inside a garage, suffering from a number of ailments and weighing 16.5kg - just over half what she should have weighed. Her claws were also overgrown from lack of exercise.
Her former owner, a 27-year-old man from Glendene in West Auckland, pleaded guilty to failing to provide proper and sufficient food, and was disqualified from owning dogs for two years and fined $490.
He told the SPCA inspector he fed the dog every second day and did not have time to clean the garage.
Yesterday, SPCA Auckland executive director Bob Kerridge said it had taken about 10 months for the team to turn the dog into a healthy, happy and trusting animal.
Pictures taken of Coecoe when she was found show her looking weak, her eyes sad and her bones clearly visible.
Photos today show a healthy and bright-eyed animal with a shiny coat.
Mr Kerridge described Coecoe's turn-around as a "miraculous recovery".
"She has responded magnificently to the tender loving care of our inspectors, dog attendants, vets and foster families," he said.
"She has gained weight and condition rapidly [and] with lots of patience she has changed from a frightened animal back into who she truly is - a very social dog who loves being around people."
About 120 animals are taken every day to the SPCA Animal Village in South Auckland for treatment and care. Last year the organisation's annual Angels for Animals street appeal raised about $120,000 for the village.
Mr Kerridge said Coecoe would make a great pet for a family with older children or one that had a bossy cat.
"Sometimes more severely neglected animals don't come right despite [our] best efforts - but that's not the case with Coecoe," he said. "I would heartily recommend Coecoe; a truly miraculous animal who deserves the best of loving homes."
CAN YOU HELP?
Anyone interested in adopting Coecoe can visit her this weekend at the SPCA Auckland Animal Village, Westney Rd, Mangere or call (09) 256 7300.