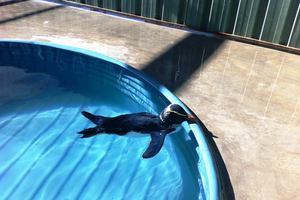 The intrepid Fiordland penguin who swam 3000km to Australia will have to repeat the feat if she wants to get home, with the Department of Conservation saying plans to fly her back are unnecessary.
The stroppy 2-year-old penguin named Katrina washed up on a beach near Mount Gambier, South Australia, two weeks ago.
Bird rescue worker Aaron Machado, who is rehabilitating Katrina, was fighting suggestions she be put in a zoo for good and had wanted to fly her home.
But Michelle Gutsell, leader of the Department of Conservation Te Anau office species recovery team, said Katrina had a good chance of making it back to New Zealand under her own steam.
"She will have that homing instinct. These birds spend a lot of time in the water, they are sea-goers, that's what they do. She will be fine."
While Machado had offered to pay for Katrina's flight, Gutsell said she would rather see the money put towards other wildlife projects in Australia.
Since the Herald on Sunday broke the news of Katrina's Tasman crossing last week, the penguin has had surgery on a large gash to her abdomen, and put on a kilogram so she tips the scales at 2.7kg. She had enjoyed her first swim since the crossing, Machado said.
She had also maintained her stroppy attitude, he said.
"She's a grumpy little girl."
It would be at least a month, but likely longer, before she was ready for release, though he still preferred the idea of a flight home.