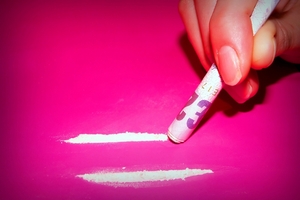 An American man has appeared in the Auckland District Court for allegedly trying to smuggle cocaine inside his body.
New Zealand Customs stopped Mark Henderson, 41, at Auckland International Airport on Tuesday after profiling him prior to his arrival from Chile.
He allegedly admitted to being an internal drug courier during a search of his luggage.
Customs says Henderson was found to be concealing 62 pellets of cocaine paste with an approximate weight of 1.3kg, and he had already passed some of the pellets which were located by airport staff.
He was arrested and charged by the Organised and Financial Crime Agency New Zealand (OFCANZ).
Henderson appeared in the Auckland District Court this afternoon and was remanded in custody for a second appearance tomorrow on charges of importation of a Class A controlled drug.
OFCANZ Detective Inspector, Steve Wood, said the internal smuggling of cocaine, or any other similar drug poses huge dangers for the carrier.
They potentially face life imprisonment when they are caught, but they also risk death.
It was only eight months ago when a Colombian woman travelling to New Zealand from South America died after a package of cocaine burst inside her.
"OFCANZ is committed to working alongside New Zealand Customs and other government agencies to prevent and detect these dangerous importations. We must continue to work together to stem the drug supply coming in, before it hits our streets and ends up costing our communities dearly'', Mr Wood said.
Customs said it works closely with medical practitioners when dealing with swallowers. Manager Investigations, Mark Day, said he continues to be concerned at the high risks people will take to conceal drugs internally.
"Our successes in detecting people carrying drugs internally show that, while difficult to detect, our methods and responses have been effective'', Mr Day said.
"Individuals attempting to smuggle illicit drugs can go to great lengths to conceal them and Customs is continually reviewing its methods to determine how we can improve detection techniques.''
- APNZ