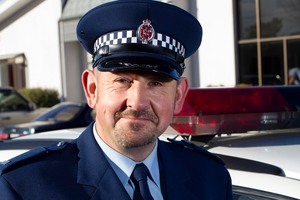 As Constable Gary Prescott battled to save an elderly woman from drowning in her car in a Christchurch drainage canal, she told him that she would be fine to "drive home from here".
"It took some coaxing to even get her hands to unclench from the steering wheel. I don't think she really realised where she was and what had happened," the police officer of 11 years said.
With the water above his waist and the car sinking in front of him, Mr Prescott knew he had to get the woman, aged in her late 70s or early 80s, out of the vehicle before it submerged, but in her confused state she was struggling against him.
His persistence in getting her to safety has earned the Christchurch policeman, 48, a Commissioner's Commendation.
His award citation says his "bravery and diligence was in keeping with the highest traditions of the New Zealand police".
On December 16, 2010, Mr Prescott was driving with his wife on Linwood Ave when he saw a big cloud of dust about 200m in front of them.
"We knew there was a main road there that runs next to a canal that is normally quite deep with water. So we sped up and we found there was a car in there."
"There was an elderly lady sitting in the driver's seat who seemed very dazed and couldn't get out of the vehicle on her own."
Mr Prescott jumped into the water and tried to get the car door open "but it was starting to sink on me".
When he got the door open, he tried to get the driver to help herself out of the car.
"But she was very dazed. She said 'I'll be fine, I can just drive home from here'.
When he finally got the woman out and up onto the bank someone was waiting to put a blanket around her.
She is believed to have had a diabetic reaction.
Looking back on it, Mr Prescott said there was a real risk of the car rolling on to its side and the woman drowning if no one had come to her aid.
Mr Prescott said he had not seen or heard from the woman since the rescue, but the fact he had helped was enough reward.
"It's a bit of a buzz. And it's kind of humbling to be patted on the back I suppose."
Other Christchurch police officers received awards from Commissioner Peter Marshall for their efforts after the February 2011 earthquake and the Pike River Mine tragedy.