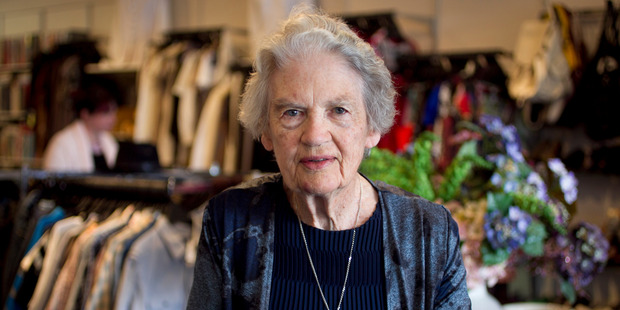 Sister Patrice, Sister of Mercy, has volunteered in the Ponsonby Hospice shop for nearly seven years. She likes music - Malvina Major and violinist Andre Rieu. Her favourite television show is Who Wants To Be A Millionaire. 'I like to answer the questions.' She is 85.
What is your guilty pleasure?
Cappuccinos.
Do you ever wonder 'what if'? What life would've been like had you not gone into the Order?
That's what I really wanted to do. You accept what you have. You take the bad with the good. Even marriages have trouble. You get the ups and downs whatever stage of life you're at. I've enjoyed my Mercy life.
What tests your faith?
Nothing. I know God is near me. He answers my prayers. Being a Sister of Mercy is my faith in action.
What advice would you give a woman considering your life choice?
It's a different life now, altogether. We weren't allowed to go out without a partner. Young people who enter now have everything they want and I'm not sure it's so good. Cars, university, travel overseas.
What are you afraid of?
Mice.
I hate mice.
What makes you feel miserable?
[Laughs] Getting old. No, not really. I have so many genuine friends that there is no room in my life to feel miserable.
Where when you were young did you see yourself in the world and doing what?
I loved arithmetic and spelling. I was good at it. I was interested in accountancy but I didn't think I'd get that far. I worked in bookkeeping for an insurance firm and around that time I started to think about entering the church. In the town hall they had an exposition of all the different orders of sisters and models of them in their habits. The Sisters of Mercy were known for teaching and nursing. That appealed to me. I had a friend who had entered the order - unbeknown to me - and I thought a lot of her. When I joined the Sisters of Mercy I had a strong sense that I had arrived where I belonged.
What do you owe your parents, your heritage?
Everything. In my time as a Sister of Mercy I have met some beautiful children who didn't have a home. I am so grateful I had a wonderful home. My mother was from Cork and met my father while she was visiting the sick in hospital. He was a wounded Kiwi soldier. I have been to Birmingham and stood at the altar where they were married. I could picture them there. It was emotional.
What place do you like to escape to?
Wherever I am, I am happy. I don't need somewhere to escape to.
What piece of technology do you most love?
I'm looking forward to learning the internet. Email is handy.
What skill that you possess are you most proud of?
I don't know about skills, but I have a lot of wonderful friends. I've worked for years as a volunteer and have learned a great deal. This helps a lot with my work at the Mercy Hospice Shop. I'm proud of my job and the money the shop brings in for hospice.
How would you like to be remembered?
As I live,
so I die.
Hospice Awareness Week runs from May 14-20.