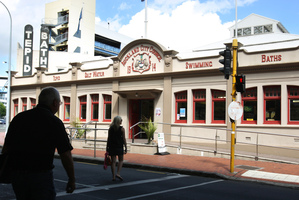 When Auckland's landmark Tepid Baths reopen after a refit next month, the Auckland Council may not be able to refer to them as the Teps.
The council is locked in a legal stoush with a former operator of the indoor pools, John Fay, over use of the term "The Teps".
Both parties are claiming rights to it, but the row does not stop Aucklanders calling the baths the Teps, as they have done for decades.
Mr Fay claims to have established "The Teps" as a trademark around 1986. The council claims to have registered "The Teps" in 1999.
Mr Fay's company, Auckland Tepid Baths, has applied to the Trade Marks Commission to have the council's trademark registration for "The Teps" struck out.
Mr Fay said the council was obliged to reach an arrangement with him because he registered the term, used it for 10 years, and the council had an earlier chance to buy it from him and refused, even though it had a report saying he owned the name.
"You have got to say that is in bad faith," said Mr Fay, who has also run the council-owned Newmarket Pool since the mid-1990s.
Asked if he wanted compensation from the council, the brother of Sir Michael Fay said he was not certain, but wanted to come to some kind of arrangement.
Last night, a council spokesman said the Tepid Baths had been known by swimmers as "The Teps" for decades before Mr Fay's involvement, and the council was the rightful owner of the name.
"We have statements from swimmers going back to the 1940s confirming this.
"The name is intrinsically linked to the baths themselves, and has no other meaning or association.
"Council will defend its rights to the name as an asset of the Auckland community and part of the historic Tepid Baths."
The 98-year-old Tepid Baths will reopen on June 23 after a two-year refit costing $15.8 million.
About 195,000 people a year used the baths before they shut, but more people will be able to use the refurbished building, which features a new 25m pool, a smaller learners' pool and a gymnasium in a new upper level.