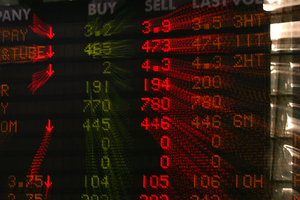 A sophisticated scam is offering New Zealanders large sums are offered for their underperforming shares.
Fraudsters posing as being from a legitimate Japanese company, Sumitomo Mitsui Financial Corporation, have called Kiwis with attractive share offers after getting phone numbers from publicly available shareholder lists.
Such "boiler room" scams are often highly sophisticated. The name comes from the heated activity in the rented premises from which salespeople telephone their targets.
A cross-agency group, made up of the Ministry of Consumer Affairs, Department of Internal Affairs and Netsafe, was tipped off to the latest scam by a Wellington investor.
The man, who asked not to be named, told the Herald he was called on his mobile phone by a man who said he worked for Sumitomo Mitsui Financial Corporation. He said the man was highly convincing and called about seven times over two weeks in January.
He was offered US$220,000 ($283,000) for shares he bought in a company, Execulet, for about US$20,000 in 1999.
"They buy these shares, then they write them off against tax and that sort of thing. That's what they told me."
The shares had been delisted for years and the man said he had all but given up recouping the money spent on them.
The scammers sent legitimate-seeming paperwork, refund documents offering "protection" if the sale fell through, and had created a clone website of the actual company.
But he said a red flag was raised when they requested an upfront payment of US$3000 so the shares could be "unrestricted".
He contacted the Ministry of Consumer Affairs, which eventually confirmed the scam.
Ministry team leader Jarrod Rendle said such scammers were "clever and persuasive".
"They make offers that are very hard to resist. Add to that an impressive website and documentation that appears genuine and even the most seasoned investor is at risk of being taken in."
Mr Rendle said it was not known if any New Zealander had lost money to this particular fraud, but investment scams were common.
In the 12 months to December last year the ministry received 82 investment scam reports, with an average loss of $7000. .
The Financial Markets Authority's website publishes the names of firms that have tried to con New Zealanders, and provides information on how to safely invest.
THE 'BOILER ROOM' FRAUD
* Scammers offer big money for underperforming shares.
* Phone numbers found on publicly available shareholder lists.
* Convincing paperwork and duplicate websites provided.
* Ask for upfront payment to "unrestrict" shares before deal.