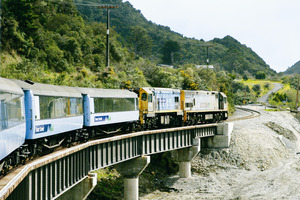 Passenger numbers on the Tranz Alpine tourist train are not expected to fully recover until more hotel rooms become available in post-quake Christchurch.
With most of the major multi-storey hotels in the city either coming down or condemned for demolition, that could be up to two years away.
A week ago, the Tranz Alpine pulled away from the Greymouth Railway Station with just three carriages.
In March, 12,791 passengers rode the train, well ahead of the 8623 who used it the previous March, although after the February earthquake the service did not resume until March 7.
Last month, passenger numbers dropped back to 7272, compared to 8811 in April 2011.
Tranz Scenic manager Tom Evers-Swindell recognised that numbers had dropped off and was realistic about the future.
"Tranz Alpine numbers are still on average 30 to 35 per cent below what they were prior to the Christchurch earthquake in February last year. We are not expecting demand to get back to pre-earthquake levels until Christchurch accommodation increases again."
Last week, it was reported that the city's Millennium Hotel had to postpone its reopening. The Garden City has also seen its 3800 hotel rooms reduced to just 1100 as a result of severe quake damage.
However, despite that and the looming winter lull, Mr Evers-Swindell said they would be working to get more people on the train.
"We will be offering special deals over winter to encourage more people to travel on the Tranz Alpine during the quieter months."
Tourism West Coast chairman Phillip Barnett, who also runs the West Coast Travel Centre at the Greymouth Railway Station, said the decline in Tranz Alpine patronage was consistent with a general decline in tourist numbers to the Coast.
He was disappointed to see prices for the world famous journey increase from $55 one way last year to $89, especially since there were no discounted rates for New Zealanders using the train.
As the train left Christchurch at 7.30am daily, it was difficult to get people on board if they were not staying the night in the city, he said.
Mr Barnett thought it could be up to two years before the city accommodation industry bounced back.
He also believed a lot of people were getting off before they even got to Greymouth.
"The concern is that over half the train get off at Arthur's Pass."
Many of those were then catching a bus directly to Hokitika and the glaciers, bypassing Greymouth.
He said Greymouth operators would need to work together to re-establish Greymouth as a hub and arrest the decline in numbers staying overnight.