Got any pictures of damage from the twister? We'd love to see them
Email us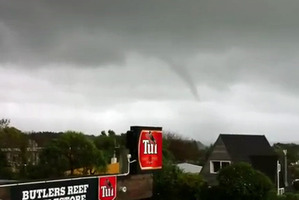 A twister ripped through Papamoa Beach last night, lifting up roof tiles and causing damage to property.
Meanwhile temperatures are set to drop in the South Island later, as a cold southwest change moves north, bringing snow to some areas.
Fire crews from Papamoa and Mount Maunganui were called to Longview Drive shortly after 8.30pm yesterday and spent about two hours helping to collect tiles and repair roofs with tarpaulins.
Mount Maunganui firefighter Murf Arndell said the crews were called out shortly after the weather event ripped through the street.
"The twister was gone but the roofs were a mess. Tiles were laying in gutters and on the ground. A mini twister went through,'' he said.
Four fire trucks were called to the scene and fire crews had worked to cover the exposed roofs of people's homes with tarpaulins. Where tiles could be found, fire crews had tried to reattach them.
Senior firefighter Ren Keepa, from the Papamoa volunteer station, said his crew had responded after they received calls about multiple houses with roofs lifting.
"In total, there was nine houses that were affected, and probably two or three that were the worst,'' he said.
The damage was spread from 120-144 Longview Drive.
One couple had a lucky escape, Mr Keepa said.
"A couple were having a cup of tea and they moved away from the window just before a two-by-four went through. It went through the window right where they were sitting,'' he said.
There were no injuries reported during the storm.
MetService this morning lifted a severe weather watch for the Bay of Plenty, as the front which brought heavy rain to the area has moved out to the east.
The forecaster said there is still likely to be further heavy showers and possible thunderstorms later in the day, but the heaviest showers have passed.
Thunderstorms passed over much of the North Island overnight, bring heavy rain to much of the island. The Fire Service reported there had been minor flooding as a result, but waters had receded as rains eased this morning.
Meanwhile temperatures in the South Island are forecast to dip later today, as a cold southwest changes sweeps up the country.
MetService said there is likely to a period of snow about the Mackenzie Country, down to about 800m this evening and 400m overnight.
During the night, 10 to 15cm of snow may accumulate on ground above 800 metres, with 1-2cm possibly accumulating about 500m.
Conditions should clear tomorrow morning.

For more articles from this region, go to Bay of Plenty Times