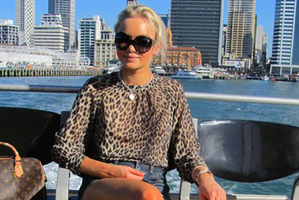 The wealthy jeweller's son accused of murdering New Zealander student Emily Longley yesterday admitted asking his mother to lie to police.
Elliot Turner, 20, who is on trial in Winchester Crown Court for murdering 17-year-old Emily, changed his plea to guilty on another charge, of perverting the course of justice.
Turner allegedly strangled Emily at his parents' home in Bournemouth, Dorset, while in a jealous rage.
His parents, Leigh, 54, and Anita, 51, are accused of covering up for him after her body was found in his bed on the morning of May 7 last year and have been charged with perverting the course of justice.
After the murder, Turner is said to have written a letter of confession but prosecutors say it was ruined with bleach by Leigh Turner to "destroy vital evidence."
Turner was arrested but released on bail, and police bugged the million-dollar Turner home.
The jury has heard they recorded the family talking about "fabricating evidence and being worried about lying to police".
Under cross-examination, Turner was asked about recordings in which he is heard asking his mother to change her evidence.
Asked why, he said his mother's initial account of events on the morning after Emily died seemed "weird".
Turner said: "I wanted my mother to change her account to police because she had said that she had called an ambulance first but in fact she'd called my father first.
"I thought that would look bad."
Today, with his father due to give evidence, he changed his plea and admitted perverting the course of justice.
The court was told that after the death, Anita Turner removed from the house a coat her son had worn on the night Emily died.
Emily was born in Britain but her family emigrated to New Zealand when she was nine and she was raised in Auckland.
She had returned to live with her grandparents in Bournemouth and study for a business degree.
She was also hoping to get into modelling.