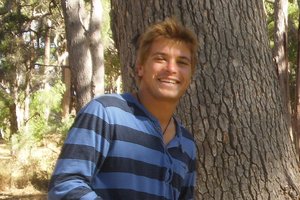 A man who accidentally shot dead one of his best mates says he could not have endured the tragedy without the forgiveness and support of his friend's grieving family.
"It makes a hell of a difference. They are just amazing people," Reuben Burke said of the family of Dougal Fyfe, 23, whom he mistook for a deer while the pair were hunting near Wanaka in December.
"I don't know what to do without them really. They knew straight away it was an accident, and [Dougal's father] Grant said that he's already forgiven me.
"It was just a freak accident. It was never supposed to happen."
Burke, 25, admitted careless use of a firearm and was yesterday sentenced in the Queenstown District Court to seven months' home detention, 300 hours' community work, and had his firearms licence revoked.
Deciding against prison term, Judge Kevin Phillips said Burke would sentence himself every day for the rest of his life.
After the sentencing, Grant Fyfe said: "This is a very sad time for everyone involved, and we miss our Dougal very much."
Burke told the Herald he was simply trying to finish off a deer he had wounded when he shot his friend.
He saw an eye reflection about 60m away, called out to Dougal Fyfe, and then fired when he got no reply. It was a terrible moment he keeps reliving.
"Every morning I wake up and it's the same thing. Time will go past, but it's always there. I can't change it, but I wish I could," Burke said.
Dougal Fyfe was an "amazing, caring person".
"He was always looking after someone else rather than himself."
Burke said he had given away all of his guns and had not even thought about hunting again.
He wants to complete his sentence and then try to move on with his life.
A combination of his mate's death and a serious back injury meant he had not been working for about 18 months.
He is also thinking about how his experience might be used to try to teach others of the dangers of not correctly identifying hunting targets.
"It's happened so often, especially lately."
Burke supports the Fyfe family in their calls for tougher requirements on firearms licensing and safety.
"Hopefully something good will come out of this."
FATAL ACCIDENTS
April 2012
* Builder Mark Richard Vanderley, 26, is shot and fatally injured by a member of his deer hunting party in Southland.
* Cam McDonald, 29, is shot and killed by another hunter in Wairarapa's Aorangi Forest Park.
December 2011
* Dougal Fyfe, 23, is shot dead near Wanaka by friend Reuben Burke, who mistakes him for a deer.