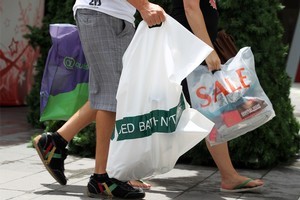 Retail sales have shown a record drop after the heights of last year's Rugby World Cup fever.
New Zealand retail sales fell 2.5 per cent in the first three months of the year, the Statistics New Zealand figures show.
The decline was led by a record 7.4 per cent drop in sales at supermarkets and grocery stores.
Labour's economic development spokesman, David Cunliffe, said the figures were an "ominous warning" of a possible double-dip recession.
And the Motel Association said members were in "survival mode" after accommodation sales fell 5 per cent.
But the Retailers Association and Statistics NZ both said the figures had to be taken in the context of strong growth during the Rugby World Cup.
"The industries that led this drop are the same ones whose sales were boosted during the cup - supermarkets, accommodation and fuel," said industry and labour statistics manager Blair Cardno. "Although sales volumes have fallen, they're still above pre-cup levels."
But both the big supermarket chains, Foodstuffs and Progressive Enterprises, said the figures did not reflect their own sales information.
Progressive spokesman Luke Schepen pointed to parent company Woolworths' third-quarter results which showed sales growth at New Zealand supermarkets of 2.9 per cent on the previous year.
Retailers Association chief executive John Albertson said supermarkets and grocers in particular had strong sales during the World Cup, driven by overseas visitors, and Kiwis entertaining at home during the tournament.
"We've come back to basically business as usual following two high quarters with the World Cup."
Mr Albertson said retail sales figures were up by 3.5 per cent compared with this time last year.
"We've seen a slow, steady recovery ... we're not going to have people spending beyond their means."
Shoppers were paying debt and hunting bargains in an already fiercely competitive market, he said.
"In the short term it makes retail growth a bit slower, but in the long term ... you'll have people with a few more bob in their pocket."
Motel Association chief Michael Baines said a bad summer had contributed to the 5 per cent drop in accommodation sales, and the Christchurch earthquakes had hurt South Island tourism.
"For a lot of areas and a lot of companies, a certain level of it is survival mode. And they're making money the best way they can."