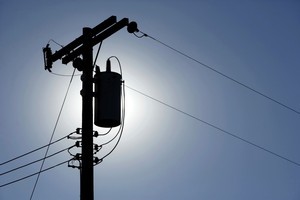 A man was seriously burnt when he allegedly cut through 400-volt power lines in Northland on Friday, in what was believed to be an attempt to steal copper earth wires to sell for scrap.
The 18-year-old was flown by the Northland Electricity Rescue Helicopter to Whangarei Hospital and was later transferred to Auckland's Middlemore Hospital in a serious condition.
Northpower, which owns the lines and is also the principal sponsor of the rescue helicopter that transported the man, said someone had climbed a transformer pole and cut the 400-volt line.
A spokesman said it was believed this line had then come into contact with the parallel 11,000-volt line to the small town of Tinopai, causing it to trip.
It was also possible the man had been shocked by 11,000 volts, and it was likely he had fallen at least four metres to the ground.
"Whoever is responsible is extremely lucky to be alive as 400 volts is easily enough to kill a person - let alone 11,000 volts.''
Earlier this month, Northpower issued a statement saying copper had been stolen from live power lines in Whangarei six times in the last fortnight.
Network manager Graham Dawson said at the time the thieves might get only $5-$10 for the metal from a scrap dealer, yet they were putting their own lives and the lives of others at risk.
It costs Northpower between $500 and $1000 to repair the damage and replace the stolen copper each time there was a theft.
Police would not confirm whether the man had been trying to steal the wires.
A spokeswoman said he was yet to be interviewed.