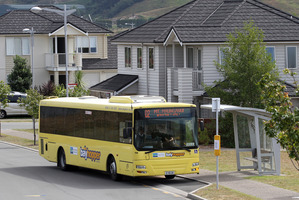 Cuts to poorly patronised Raglan weekend bus services and a mini-bus from Whatawhata are likely to be introduced to reduced overcrowding on weekday buses travelling to Hamilton.
But the measure could just be a temporary fix for a packed buses problem that will get worse next year, a councillor says.
The Waikato Regional Council, which manages the region's bus services, has been wrestling with overcrowding on buses in Hamilton and the school run service between Raglan and Hamilton.
Children as young as 8 and disabled passengers have been left waiting for up to two hours before there is room for them to ride.
Yesterday, the chairwoman of the regional council's transport subcommittee, Paula Southgate, said cuts to Saturday services were being considered so the council could afford to pay for more services at peak morning and afternoon times for Raglan passengers.
She said talks were still in progress with the Waikato District Council on final funding arrangements, but Saturday's twice-daily service had been targeted for a cut because of its lower patronage.
Waikato District Council roading and transport chairman Noel Smith said provision of a 15- to 20-seater mini-bus was also being "seriously contemplated" for Whatawhata residents travelling to and from Hamilton.
Mr Smith said the district council's roading manager was to put the proposal forward before the next regional roading committee meeting next month.
"If the regional council is able to supply the figures that it will cost the district council, that could happen within a fortnight of the district council agreeing to it," he said.
"Of course we are committed to getting those people at Raglan - and particularly, at Whatawhata, people who have no other choice - to town."
Mr Smith said a meeting with Raglan residents revealed the problem with overcrowding could get worse.
"We have been told by the community at Raglan that more people are going to send their children to school in Hamilton next year, so this buys us another six months.
"Our long-term plan is a 2.4 per cent general rate increase so we can't afford to keep throwing money at buses for people to get to work," he said.
"So if the parents of Raglan continue to send their children to school in Hamilton there will be a cost that the ratepayers will not be asked to pay."
Raglan transport operator Dave Brown said cutting the Saturday service and adding a mini-bus service for Whatawhata residents made sense.
"You've got a 54-seat bus and room for about 20 standing and it's only got three or four people on it to Raglan on Saturdays," he said.
"Well that was just crazy."
Mr Brown said fares from Raglan to Hamilton had increased more than 40 per cent this year but those demanding services would eventually have to pay for them themselves.