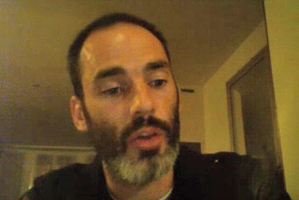 Free after a 25-day ordeal in a squalid African jail, New Zealand photojournalist Robin Hammond was reunited with his fiancee yesterday.
Hammond, a dual citizen of New Zealand and Britain, landed in London yesterday morning. From there, he went to Paris, where he was met by fiancee Aude Barbera.
Hammond was finishing a project chronicling the flow of illegal migrants between Zimbabwe and South Africa.
"This was to be the last trip," he said, speaking via Skype from Paris. "This last theme was to do with the exodus of Zimbabweans."
Hammond crossed the border at the Limpopo River, trying to avoid border guards in both countries.
On April 16, he and his associates were alerted to the presence of South African soldiers and had to make a mad dash across the river.
He returned to Zimbabwe, resting at his Beitbridge hotel, but police were waiting for him.
They arrested him on two charges related to immigration and protected areas. Hammond believed a hotel employee betrayed him.
He and his associates were interrogated at Beitbridge police station. "They said: 'We can make you speak, whether you want a lawyer or not'."
"My fear was that they would move me from one police station to another and I would go missing.
"But luckily they hadn't taken my phone off me yet. I was able to call Aude real quickly and say: 'I need a lawyer, this is where I am'."
Barbera began the efforts to have him freed.
"We were in a 5m by 10m cell. There were 39 of us and we were sleeping side by side."
Hammond had no idea when he'd be deported.
Grown men cried daily as guards regularly taunted and beat inmates, many of whom were illegal aliens who waited months or even years to be deported. Prisoners were fed weevil-ridden food, including beans meant for cattle feed.
"There was one toilet for 250 people. People would be tearing up packets of cigarettes to wipe their arse."
Hammond's lawyers, Bryant Eliot and Jeremiah Bamu, and his good friend, Cape Town-based Braam Hanekom, worked with Barbera and New Zealand diplomats to keep pressure on Zimbabwean authorities, until his deportation was confirmed on Wednesday.
Hammond contacted his family in Wellington yesterday. "Obviously I put them through the mill and it's been really tough on them. I hope that this year I can get back."