Bullying affects almost every New Zealand family. The stories our readers have told to reporters Simon Collins and Vaimoana Tapalaeo in response to the Herald campaign to "stop the bullying" have been painful, and sometimes inspirational. Here are a few of them.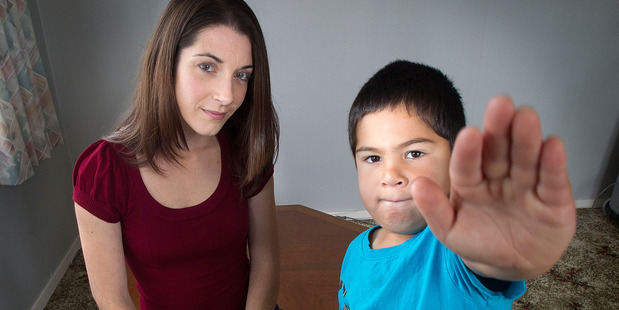 Read the full week's worth of the Herald Stop The Bullying series here.
The mother
Kim Delport, aged 35, Bucklands Beach
I have a 6-year-old daughter who has been bullied at school for the past year, off and on. I expected to be dealing with this when she's a teenager, not when she was 5. I actually got told by a police officer that 6-year-olds don't do that.
It's one particular girl. They play together, then sometimes this girl will just turn around and punch her in the back.
The initial one last year was scratching on the stomach. She didn't want to tell us where she got it from. Two weeks later I heard from another mum that her daughter had told her what was going on.
The teacher is a bit confused, because the girls play so happily together; the girl seems to do it when no teacher is around. By the time we hear about it and get back to the school, the girls have forgotten what happened.
[My daughter is] wetting herself again, not wanting to go to school. We had stages last year when she threw tantrums every morning, not wanting to put on her school uniform. They were in the same class last year.
We've got them separated this year but she's still holding back, not really wanting to go to school. She sees the girl and hides.
Yesterday the other girl was away sick and my daughter danced around in delight.
We've had meetings with the school. One comment was, "Your daughter is partly to blame." She is very babyish, she acts like a 4-year-old if someone touches her. I said, "I can see where you're coming from, but the hitting has to stop."
The reasoning the principal gave us last week is that they are Islanders, they've only been in New Zealand two years, that in their culture it's do or die. I totally understand, that's why I don't blame the girl. But she needs to be told.
I thought about changing schools, then I thought my daughter is just going to be a target somewhere else. She has a really good friend at this school so she doesn't want to leave her.
The sister
Anonymous, 35, North Shore
My brother was a normal/typical child until the age of about 12 or 13. I am his older sister by six years and we would always play together, with me often treating him as if he was a younger sister or my baby girl.
He grew up to be a bit feminine, so by the time he went to St Peter's College he started being picked on.
He was bullied on an almost daily basis. It involved name calling ("poofta", "faggot", "gay", etc), being made to do things he didn't want to do and being shoved around physically. I remember him making daily excuses about not feeling well and refusing to go to school.
My parents eventually changed his school because the bullying was affecting his physical health - his mental health was clearly affected. He lost all confidence, stopped taking part in everything and only had one or two friends. Things were better for a while at his new school, but the damage was done.
After about a year at the new school, he confessed to me (I was very close to him emotionally) that he was being bullied and he was hearing voices.
Some months later he was diagnosed as being bipolar and stopped school entirely. He was put on psychotic medication, which he will likely need for the rest of his life.
He is in his 30s now and has no friends. He is very shy, lacks confidence and really only wants to be around people he is comfortable and familiar with, such as family.
As a mother now, I worry to no end about my children being bullied at school. My older child is on the autism spectrum and has special needs.
At the first sign of bullying, if it is not addressed to my satisfaction, I am likely to pull my children out of school to home-school them.
As a sister, I feel nothing but pain and sadness at the potential that was lost and for the wonderful person that my brother could have been if bullies had not taken away his right to be that person.
The white girl
Anonymous, 42, Auckland
I was the whitest girl in an all-girl school in the 1980s. I can testify that what [Edgewater College student] Krystal says about her experience is not new.
Bullying can come from any ethnic background. Verbal taunts and violence by the Maori and spitting and having rubbish thrown at me by the Pakeha was my lot.
My parents pushed me hard at home (schoolwork, everything) and were not sympathetic when I came home sporting a black eye from the school bus trip home.
The bullying (much of it for my white skin, some for my visual impairment) started at kindergarten and didn't end until I left high school. I left school and home at 16.
The effects of bullying have reverberated through my life. I was diagnosed with depression (an illness that started at age 15) when I was 30. Prior to that diagnosis I had been a substance abuser, alcoholic, self-harmer. I had contemplated suicide multiple times. I am still wrestling with depression and may never be free of it. I will never forget the names of those people who bullied me at school. You cannot forget their names. These people scarred me for life.
I also hear from relatives that many people I went to school with remember me. I don't know why. After all, they looked the other way. That guilt is their burden. It's not half as bad as mine. I know what these kids are going through and what suffering lies ahead for them. Bullying at school is only the start. Wait until they get a job.
The immigrant
Ryotaro Wright, 17, Tokoroa
It started off with name-calling when I was in year 10, three years ago.
It was a group of people. They seemed to be my friends at one point, I'm not too sure. They were calling me "whale-eater" because I'm Japanese. It was at school, during interval, just normal hang-out time.
I remember getting pretty annoyed after a while. I think they tried play-fighting or something, it's hard to remember now.
I think I got angry, I wanted to really hit one of them.
At one stage they tried to take me down and one of them hit the side of my head on the floor in the foyer between the gym and the changing rooms. They took me to the sick bay. Then I started throwing up, and the next thing I knew I was pretty much out. I wound up being rushed all the way to Waikato Hospital and getting brain surgery.
I'm not too sure why they did it. There was one person who actually made me fall on my head. The person who did it showed some real remorse. He was expelled from school, along with one of the other people who did it, and two others got suspended.
I was in hospital for four days. I woke up during the first night with one eye going one way and the other one going the other way, everything was double vision.
I think they put a drain in my head because there was some pressure building up. It was painful. It was not fun. I was off school for six weeks.
I still get headaches, I think I've kind of got used to them. I don't think I'm as smart as I used to be but I don't really care too much about being smart.
Last year I asked if I could join up with Freedom Road [a new anti-bullying programme at the Tokoroa YMCA]. I just wanted to help people. I'm a mentor, that's pretty much just being a person in their lives who is not the bully. I listen to their stories. It tells me I'm not the only person that goes through a hard time.
The rescued
Lisa Gembitsky, 31, Lower Hutt
I was a bully at school. I was also a victim. In my first year at college I ate my lunch in the bathroom for six weeks.
I grew up in Wainuiomata. I was one of the few white girls at the school. I was pretty sporty, so I hung out with the guys a lot. I think that's where it came from - jealousy.
One day, one of the girls who was a lot bigger than me came up to me and shoulder-barged me through the middle of a hallway.
I was like, "All right, what's your problem?" I am feisty, I stood up for myself. She just went off her face yelling at me, telling me she was going to hunt me down. There was a group of three or four girls. They were pushing me up against the wall. I sat in the bathroom because I was scared of them - and because I had no friends.
One day a girl I didn't know came into the bathroom and said, "Lisa, what are you doing?"
I said, "Nothing." She said, "Don't be scared of them, hang out with me." That completely changed my world.
One day I was walking up the stairs and the ringleader showed up and said, "Let's do it." So I said, "Let's do it." And all of a sudden this girl who had saved me in the bathroom showed up and said, "You want to go for her, you've got to go for me, too."
Thank God she showed up, she quite seriously saved me.
Now I have a child of my own and I have started a programme called Konfident Kidz that gives kids strategies to deal with bullying. We deal with bystanders and how to get involved.
If you're a bystander, you are part of the problem. If a group of three or four go in together and use skills, like holding their safety zone and creating distance between the two sides, you can make the kind of difference that my friend made for me.
The gay guy
Troy Dibble, 28, Auckland
Troy Dibble still has recurring dreams about the severe bullying he suffered as a student at a top boys' school in Auckland.
He described his experiences with bullying as "terrifying", saying he was afraid to walk down the corridors for fear of what might be waiting around the corner.
A secret about him - that he was gay - spread through the school in fourth form, not long after his 15th birthday.
"My life was turned upside down. Within the week everyone in the senior school knew my 'secret'. Within the month the junior campus across the motorway knew about me ... it was like my world was spiralling out of control and there was nothing I could do about it.
"There was name-calling, whispering, having books knocked out of my hands, my bag ripped off me as I walked between classes.
"My dorm room was trashed on a daily basis, my bed stripped, my locker broken into, my chair at my study desk flipped upside down so, as one boy put it, 'I could sit on one of the legs like a real faggot'."
Mr Dibble, who boarded at the school, said he began to feel isolated and withdrawn from various activities as the bullying got particularly worse throughout that year.
"I cut down my meals to only lunchtimes and skipped breakfast and dinner. I couldn't bear to be in a space as public as the cafeteria with that many students. I didn't want to go through any more abuse than I felt I had to put up with."
Mr Dibble said it was the love of his family and friends that helped him to stay on track.
"Every child deserves the right to feel safe at school ... that right was removed by the boys I went to school with. I wouldn't wish anything similar on anyone else."
The fat girl
Anna Forsyth, 33, Auckland
Being overweight as a child saw Anna Forsyth ridiculed and mocked about her weight so severely that she was suicidal at age 10.
"I got called 'the fat club', 'fatty', everything you can think of. I was called 'Anna four-eyes' and I didn't even wear glasses. People followed me around harrassing me - I was always crying.
"They had class meetings about 'how to deal with Anna', because I was always upset. Teachers didn't really do anything about it - they just told me to stay away from the other children."
Ms Forsyth, who sings under the name Grace Pageant, has written about her experiences.
The song is called Girl With No Bones - about how she was never brave enough to stand up to her bullies.
"I was spineless, so that's why I wrote it. I wanted others to not be spineless like I was. If someone [who is being bullied] is too afraid to say anything and they hear my song and change that mindset, then I've done something good.
"I was totally silent - and now I'm not. I'm quite passionate about bullying now. I couldn't speak up, but others can."
Watch Anna Forsyth's video for 'Girl With No Bones' recorded as Grace Pageant: