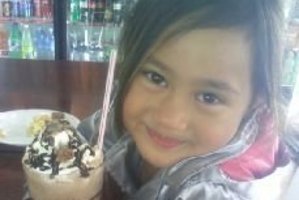 The family of a 5-year-old critically injured after being hit by a ute in Rotorua last Saturday hope she will wake from her induced coma in time to celebrate her sixth birthday next week.
Hineraukura Fraser-King's family remain by her bedside at Auckland's Starship hospital.
Her grandfather Anaru Fraser said Hineraukura remained in a critical condition with head injuries, holes in her lungs and numerous broken bones including a broken arm, leg, jaw and neck.
Doctors had not decided when they would attempt to wake her.
"When they do it won't be for long as it's safer for her to be in the coma at the moment," he said.
"She needs low stimulation so as not to stimulate her brain and cause swelling. We can't talk or make noises around her."
Mr Fraser said previous reports she had undergone surgery were incorrect. The family had set up a Facebook page to keep family and friends updated with her progress.
Hineraukura, a Te Kura o te Koutu School pupil, turns six next Thursday.
Mr Fraser said extended family on both sides had joined together to draw up a roster of six-hour shifts that had two people by her bedside and communicating with medical staff at all times. The Facebook page is called "Operation HINE".
Due to the extent of her injuries, Hineraukura has a whole team of doctors looking after her. Their biggest concern is currently her head and brain injuries, which the neurosurgeon will continue to monitor over the next few days.
Other specialists are treating her internal injuries - she initially had four tubes in her lungs to drain excess air but was now down to just one.
Orthopaedic surgeons were yet to put any casts on her broken bones although they are considering fitting a neck brace on Monday.
Mr Fraser said the driver of the utility vehicle involved was not at fault and was not speeding.
He said Hineraukura had run around the front of a parked car to get into the driver's side, despite being told not to, running into the path of the vehicle.
"She was just a child eager to get into the car," he said.
He has since spoken to the driver, who was badly shaken, to reassure him that he was in no way at fault.
For more articles from this region, go to Rotorua Daily Post