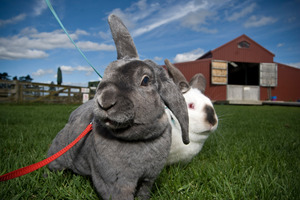 Government research has revealed rabbits are capable of spreading the kiwifruit-destroying Psa-V.
Testing by Plant and Food Research also suggests the bacterial disease can be spread by orchard equipment, after positive samples were taken from the tyres of a quad bike and trailer.
Researchers took swabs from the feet of eight rabbits shot in kiwifruit blocks the night before and found that half tested strongly positive for Psa-V, while a fifth tested positive on a weaker scale.
The sampling, undertaken during wet conditions favourable to the bacteria, aimed to confirm whether Psa-V could lodge on clothing, tools and vehicles.
One Te Puke grower told the Herald he had ordered his dog's paws to be tested and was relieved to find the results were negative.
But while rabbits could spread Psa-V, wind and rain was likely spread it further.
John Burke of the industry-established company Kiwifruit Vine Health said orchard hygiene remained crucial to growers - especially those starting afresh with the more resistant G3 variety of gold kiwifruit.
Yesterday, it emerged a new study had shown Psa-V originated in China.
US and Italian scientists have used DNA sequencing technology to examine links between the Psa bacteria and a disease which afflicted orchards in China and Japan in the 1980s.
Their findings, printed in the journal PLoS ONE, showed the bacteria from China and New Zealand were almost identical.
Psa-V has spread to 1184 New Zealand orchards since it was discovered in the Bay of Plenty region in November 2010.
Damage estimates released this week put its cost to the New Zealand kiwifruit industry at more than 1400 jobs lost over the next three years.
Combating the disease is also expected to cost between $310 million and $410 million over the next five years, with the long term bill rising to between $740 million and $885 million.