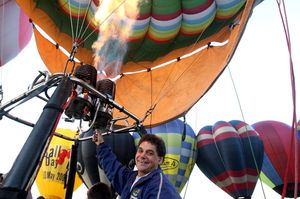 The Government says there is sufficient evidence to support mandatory drug testing in the adventure tourism industry after a report into the Carterton ballooning tragedy released today said cannabis was found in the pilot's system.
Transport Accident Investigation Commission lead investigator Ian McClelland said cannabis use had not been identified as a cause of the ballooning accident that killed pilot Lance Hopping and 10 passengers near Carterton in January but was "obviously a significant safety concern''.
The revelation comes the day after a TAIC report into a fatal plane crash at Fox Glacier in 2010 found two commercial skydivers on board had cannabis in their systems.
That prompted a safety recommendation to the Transport Ministry urging the introduction of a drug and alcohol detection and a deterrence regime for people employed in safety-critical transport roles.
At present, there is no legal requirement for random drug testing for the likes of commercial balloon pilots or skydivers.
Mr McClelland said it would be up to the ministry and the Civil Aviation Authority (CAA) to determine how a drug testing regime should be implemented.
Commenting on the release of the Carterton report, Minister of Transport Gerry Brownlee said he had asked the TAIC for more information about how often it was a factor in such accidents.
"Any time you've got people in charge of a vessel or vehicle with passengers in it we have to be very concerned about their state of fitness and this is a big concern.
"It's a shame that you will always get a small percentage of operators who will transgress like this. It's incumbent on us to try and tidy things up,'' he said.
Prime Minister John Key said it was completely unacceptable that cannabis had been found in the systems of both the balloon crash pilot and the two skydivers.
He said mandatory drug testing in the adventure tourism industry looked likely to be necessary and he had asked Labour Minister Kate Wilkinson to look into it.
Ms Wilkinson said she would prefer the industry take it up voluntarily before legislation to make it mandatory.
Mr Key, who is also Tourism Minister, told media at a tourism event in Queenstown that the Fox Glacier crash likely would not have happened under new civil aviation rules that came into effect last year.
Mr Hopping, 53, and his passengers died when their hot air balloon hit power lines and caught fire near Carterton on January 7.
The interim TAIC report released today set out the facts but offered no analysis of why the crash occurred ahead of a a full report due by next March.
It said a witness heard Mr Hopping yell ``duck down'' before turning to see the balloon strike the lines.
The balloon's basket became caught on two wires, one of which a witness said passengers tried to push off.
The balloon then tried to rise, pulling the power lines up as it slid along them.
About 15 to 30 seconds after contact, electrical arcing started and a fire erupted in the bottom of the basket.
Two passengers jumped from the burning basket and shortly afterwards one of the power lines broke.
The balloon rapidly ascended as the fire increased in intensity, catching hold of the envelope, which collapsed before the balloon fell to the ground.
The rapid climb and fall lasted about 30 seconds.
The TAIC inquiry drew on ground and balloon-based photography of the flight, a large number of eyewitness accounts, and weather reports.
The ongoing investigation would pursue seven main lines of inquiry, including whether a malfunction contributed to the crash, balloon and pilot performance, and the effects of substances on pilot performance.
It was also looking into the certification and registration of balloons, the maintenance and continuing airworthiness of balloons, the regulatory framework around ballooning in New Zealand, and a review of wire strikes and in-flight fires involving balloons in New Zealand and elsewhere.
The Masterton locals killed in the crash were Mr Hopping, Valerie Bennett, 70, and husband and wife Desmond and Ann Dean, aged 70 and 65.
The victims from the Wellington region were Ms Bennett's cousin Denise Dellabarca, 58; husband and wife Howard and Diana Cox, aged 71 and 63; Lower Hutt couple Stephen Hopkirk, 50, and Belinda Harter, 49; and young Wellington couple Chrisjan Jordann, 21, and Alexis Still, 19.
Meanwhile, Mr Key today refuted ``facts'' used by the father of a Fox Glacier plane crash victim to claim on the internet that New Zealand is unsafe for tourists.
Chris Coker's 24-year-old son Bradley was one of nine people killed in the Fox Glacier crash. Mr Coker has said in a YouTube video and social media campaign that his son's death was "completely avoidable'' and showed a lack of proper regulation and control.
Mr Key said today that he wanted to pass sincere condolences to Mr Coker for the loss of his son, "an enormous tragedy, so I feel for him as a parent and as a politician.
"He needs to understand, as others do, that we take it very seriously in terms of improving safety standards. My fundamental view is that the industry is safe, for the most part it was safe, the vast bulk of operators have operated for a long period of time and the real changes we've made are about eliminating one or two rogues that tarnished the whole industry.
"What is not true is some of the claims made in terms of the number of deaths and the state of the industry. They are just factually incorrect, but I can understand his pain and we're committed to doing a better job.''
- APNZ