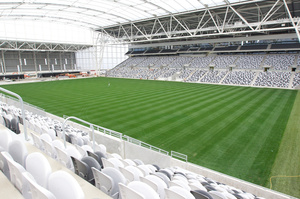 Dunedin Venues Management Ltd recorded a $1.9 million loss for the first six months of 2011. Photo / Supplied
Dunedin City Council says it will be forced to consider more funding to help the company running the Forsyth Barr Stadium overcome a nearly $2 million loss and debt-servicing costs it cannot afford to pay.
It was confirmed yesterday Dunedin Venues Management Ltd - which runs the stadium - had recorded a $1.9 million loss for the first six months of the 2011-12 financial year.
The company is now forecasting a full-year loss of $2.4 million, followed by losses of $1.2 million, $1.1 million and $1 million for the following three years, council information shows.
The bleak news was presented at a media conference yesterday by DVML chief executive David Davies, Dunedin City Council chief executive Paul Orders and Dunedin Mayor Dave Cull.
Mr Davies said the $1.9 million loss was due to "really challenging" trading conditions and a failure to attract more major events like the Sir Elton John concert.
That meant a drop in associated revenue from venue hire, ticket sales, food and drinks and merchandising for DVML, and the company had also missed out on revenue prior to opening in August and again during the Rugby World Cup, he said.
Revenue from the sale of membership packages had also "flatlined" in recent months, as an expected late sales surge - based on experiences at other New Zealand stadiums - failed to eventuate in Dunedin, he said.
There were bright spots, with Highlanders rugby matches and the conferences and meetings market proving more profitable than expected for the stadium.
Despite that, the company was still unable to cover debt-servicing costs for stadium construction loans taken out by the council, which it was required to meet, Mr Davies confirmed.
The six monthly result represented a dramatic turnaround from DVML forecasts released last year, which tentatively predicted profits of $91,000 in 2011-12, $30,000 in 2012-13 and $46,000 in 2013-14.
"What we have here really is a dose of reality about the circumstances we face as a city," Mr Orders told reporters.
Mr Cull - a critic of stadium financing arrangements during the project's inception - went further, saying the result showed the flaws in the model underpinning the stadium's financing and operation.
"The financial funding and operating model of the stadium was put in place to convince people to build it," he said.
"Clearly it was optimistic."
That meant a "comprehensive" review was needed to examine all aspects of the stadium's operating model, including DVML. The financial risks remained "high", but the fixed costs of operating the stadium were becoming clearer.
Councillors would have consider how best to overcome the current DVML deficit, but options included funnelling any end-of-year council surpluses into the company to cover the shortfall, Mr Orders said.
Councillors were expected to consider the matter at the next finance, strategy and development committee meeting on June 13, but Mr Cull said it would be ratepayers who ultimately footed the bill.
"Clearly the facility is owned by the ratepayer, and if there's a loss it falls to the ratepayer ultimately," he said.