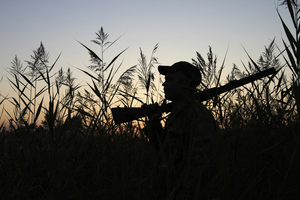 Duck shooters in Waikato and Bay of Plenty have been praised for sticking to regulations, with fewer offences than normal during opening weekend.
At the weekend Fish and Game staff and a police arms officer covered a wide area from Bay of Plenty coastal reserves and part of the Waikato River to forests including Rotoehu and Reporoa, and the Gisborne-East Coast district.
The head of the operation, Fish and Game Officer Anthony van Dorp, said only one infringement notice was issued - to a hunter who was found with lead shot by a pond - compared to about four offences detected each opening weekend over the past few years.
"It's a pleasing and very positive result from speaking with over 240 hunters. Overall, the rate of compliance was excellent, indicating that most hunters who turned out for the opening acted sensibly and responsibly, enjoying their pursuit."
Mr van Dorp said officers met quite a few family groups with children who were out enjoying the hunting experience and camaraderie involved.
But some still weren't heeding the message that guns and alcohol don't mix.
"It was very disappointing to see a small number of hunters were also consuming alcohol against the 'guns and alcohol don't mix' advice and law, putting themselves at risk. Especially in view of two recent hunting deaths, this sort of behaviour is unacceptable."
The game bird season was only days old and it was timely to remind people they should be carrying their game bird licence while hunting, he said.
Fish and Game staff would continue to check on hunters during the season to make sure they were following the game bird hunting rules.
Eastern Region's Senior Fish and Game Officer, Matt McDougall, said the success achieved on opening varied considerably, from hunters who were close to limit bags by late morning to others who hadn't downed a bird when checked.
The generally fine weather was far from ideal for the opening, although some hunters reportedly did well in the coastal reserves.
"Most experienced hunters accept that the pursuit has its swings and roundabouts where bags are concerned, and are often content to go away with a couple of birds. We interviewed some hunters in the coastal Bay of Plenty who went home before lunch with their bag limits and were looking forward to seeing what the rest of the waterfowl season would bring."
Mr McDougall said Fish and Game wanted hunters who harvested any birds with leg bands to write, telephone or email the details of the bird and its band number. They also wanted information on any shot bird which had a radio transmitter fitted, as they were part of an earlier tracking study.