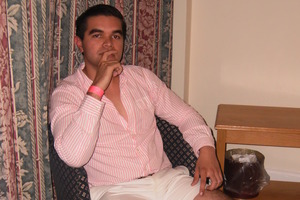 A Briton accused of strangling his New Zealand girlfriend Emily Longley today told a court he held her neck for "five or six seconds" during a violent argument before she died.
Elliot Turner, 20, confessed to grabbing Longley, 17, "quite hard"
round the neck and pushing her onto his bed before pressing down above her collar bone with his right hand.
He said he then stormed out of the room at his parents' 350,000 pounds home "disgusted" with himself before writing a letter to his mother and putting it under her door asking her forgiveness.
Turner, wearing a smart suit and open necked shirt, told jurors he went to sleep beside his girlfriend but when he woke the following morning and touched her cheek "she was just so cold."
He said the couple had got into a fight in his room after she threw two drinks over him earlier in the evening on May 6 last year at the Cafe Shore bar, in Sandbanks, Dorset.
Turner said Emily punched him in the face and after he responded by pushing his right forearm into her neck she kicked him in the face and stomach.
He said: "I offered her 20 pounds to get a taxi but she kicked me right by my private area and landed blows on my back.
"I pushed her back using my forearm and it landed above her collar bone. It was quite hard.
"That caused her to fall backwards on the bed and she started screaming and hitting me with flailing fists.
"At that point I grabbed Emily with my right hand by her neck.
"I wouldn't say it was very hard but it was quite hard.
"I was applying slight pressure and the purpose was to restrain her and calm her down.
"She was kneeling on my bed and from that position I pushed her down on to the bed and she went backwards.
"She was flat on her back and I then pressed down on her neck. All together I held her neck for about five or six seconds at most.
"I didn't intend to harm her or cause her serious injury.
"I stormed out of the room and was just disgusted with myself."
When Anthony Donne QC asked him if he intended to kill her Turner answered in a whisper: "No."
'MUM, I'M ASHAMED I WORE MY HEART ON MY SLEEVE'
Turner said he went into the lounge and sat for 15 minutes before writing a letter to his mother.
He said: "It said 'Dear mum, I can't believe how I've acted tonight in Cafe Shore in front of all her friends and all my friends.
"'I embarrassed her and made a fool of myself. Mum, I'm ashamed I wore my heart on my sleeve.
"'I let my emotions get the better of me. I'm not going to lie, I will tell you the truth.
"'Me and Emily had a physical argument tonight. I grabbed her by the neck and threw Emily on the bed.
"'That's something I've never done before to anyone, please forgive me.
"'Emily is either in the room crying or she's gone home.
"'Emily will never want to speak to me again, there is no point in living here anymore.
"'I might as well f*** off to Spain. Please forgive me, love Elliot.'"
Turner said he went back into the bedroom and went to sleep in the bed next to Emily without checking on her.
TURNER DESCRIBES FINDING EMILY LONGLEY DEAD
He said he woke up at about 8.30am and Emily was still in the same position.
Turner told jurors he ate some cereal and brushed his teeth before going back to the bedroom.
He said: "I put my hand on the covers where Emily was and tried to wake her but there was no response.
"I got my right hand and touched her cheek - she was just so cold.
"I sort of froze for about 30 seconds and thought 'oh s***, I better get my mum.'
"I went into my mum's bedroom and woke her up saying 'Emily's cold, get out of bed now.'
"My mum then tried waking her up by shaking her and shouting at her but there was no response.
"I wandered into the lounge and sat there blank for 15 minutes.
"I thought maybe Emily had a fever, I've never come across anyone cold before.
"My mum called my dad and he came home and called an ambulance."
Paramedics and police arrived at the home, in the affluent area of Queens Park, in Bournemouth, Dorset, and Emily was pronounced dead.
Turner was arrested on suspicion of murder and gave a 'no comment' interview.
TURNER EXPLAINS THE MALLET: 'IT'S ALL JUST BOLLOCKS'
He admitted that while on police bail he researched online 'how to get off the charge of murder' and 'self defence.'
Winchester Crown Court heard that before her death, Turner had threatened to kill Emily with a mallet.
He said: "If you look at it with the mallet incident it looks quite odd.
"If someone didn't know what I was like or my sense of humour they would say it looks really evil and sinister.
"It makes me look like a crazy person but it's all just bollocks."
Turner also confessed he told his mum to change her story to explain why she had taken so long to call an ambulance.
Winchester Crown Court has heard Turner was jealous and possessive.
He allegedly threatened to kill the blonde teenager with a lump hammer and boasted to her "I will go to prison for it and still be a millionaire when I come out."
'I AM GOING TO KICK THIS B**** IN THE HEAD'
Earlier the court heard how he told a friend he was going to kick her in the head on the night of her death.
Turner admitted sending a text to a friend on May 6 which said "I am going to kick this bitch in the head ... hello darling have you met Mrs Mallet?"
Later he met up with Emily at Cafe Shore and they went back to his home with his friend, Tom Crowe.
Turner told the court: "I parked and Emily and I were very loved up.
"We were French kissing but then she said I tasted like an ash tray because I had been smoking.
"I got out the car and I told Tom to get the mallet out the boot because I wanted to impress him and continue the prank.
"He put the mallet in his jacket.
"I opened the car door for Emily and she asked me to carry her, like newly weds.
"I picked her up and carried her inside my bedroom."
Winchester Crown Court has heard Turner was jealous and possessive and killed student Emily during a drunken argument.
Jurors have been told Turner became increasingly suspicious Emily had been having affairs during their four month relationship.
Emily changed her Facebook profile picture from one of them together during a three week holiday to New Zealand in April.
The court heard Turner later threatened to kill the blonde teenager with a lump hammer and boasted to her "I will go to prison for it and still be a millionaire when I come out."
After the murder Turner is said to have written a letter of confession but it was ruined with bleach by his father, Leigh Turner, 54, to "destroy vital evidence."
Turner was arrested following her death on May 7 last year but then released on bail.
Jurors heard a police bug of the Turner home recorded the family talking about "fabricating evidence and being worried about lying to police."
Police scans of computers seized from the home found Google searches for 'death by strangulation' and 'how to get out of being charged for murder.'
The court was told that after the death, Turner's mother, Anita, 51, removed from the house a coat her son had worn on the night of Emily's death.
Officers made a series of recordings at the Turners' home between May 18 and June 14 last year.
They then arrested the three family members and charged them in July.
The court heard pathologists who examined Emily's body found injuries consistent with asphyxiation, Turner had scratches on his arm and Emily had his DNA under her fingertips.
Emily was born in Britain but her family emigrated to New Zealand when she was nine and she was raised in Auckland.
She had returned to live with her grandparents in Bournemouth, to study for a business national diploma at Brockenhurst College, Hants, and worked part-time at Top Shop in Bournemouth.
She was also signed up to a modelling agency and had appeared on the front page of a magazine in New Zealand.
Elliot Turner denies murder and perverting the course of justice. His parents both deny perverting the course of justice.