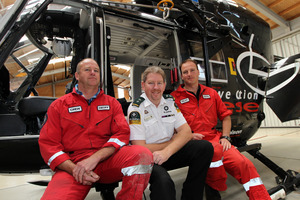 Soaked, exhausted and perched in the door of a rescue helicopter, Stephen Smith knew he had just minutes to make a final attempt at saving Jim Horgan's life.
The daring rescue off the coast of Napier on October 11 last year had all the drama of a Hollywood thriller - a helicopter running critically low on fuel, fast-failing light, 35-knot winds and the skipper of a stricken yacht in the water amid 3m to 5m seas.
The three men involved in the rescue - Hawkes Bay Rescue Helicopter crewmen Dean Herrick and Geoff Taylor, and Mr Smith, a St John advanced paramedic - were last night honoured with New Zealand Search and Rescue's highest award for flying into the storm and bringing back Mr Horgan.
The Wellington 63-year-old had been sailing his 9m yacht Kawa from Tonga when high seas and strong winds wrecked his sails and cut his engine.
Reports began coming in that he was in trouble and shortly before 6pm the chopper was en route to the scene, 50 nautical miles out from Cape Kidnappers.
"When we got out there it was very apparent that the yacht was in dire straits - we had to take the opportunity to get the guy off while it was there," Mr Smith said yesterday.
Deciding it would be unsafe to winch Mr Horgan from his yacht, they asked him to get into the liferaft tethered to the vessel.
But when the wind pushed the raft back alongside the boat, the plan was changed and Mr Smith was lowered into the water and swam to the raft.
But Mr Horgan, once he was reached, told Mr Smith he was anxious and could not swim.
The extreme conditions again hampered efforts when the pair were caught up in the tether rope as the winching operation got underway.
As they tried to untangle themselves, Mr Horgan slipped out ofhis harness and fell into the water, while Mr Smith was dunked twice before being hoisted back up to the helicopter.
"I think at that point in time, we were down to about six minutes on scene before we had to start returning towards shore," Mr Smith said.
"I just remember being winched back into the helicopter and still sitting in the doorway, and Geoff just saying to me, 'Hey, there he is, are you ready to have another go?'
"You just have to take a deep breath and say, 'Give me a minute to get my breath,' because it was pretty exhausting.
"But you make that decision that if we are going to have to get this guy, this is when it's going to happen - we're going to do it now."
He was lowered again, this time coming back up with the skipper.
Mr Horgan told the Herald he owed his life to the three men.
"I'd certainly like to thank them - they saved my life, obviously, and they are very selfless men."
Mr Herrick, who was in the pilot's seat, described the operation as one of his most challenging - and with Mr Smith put its success down to a strong team effort.
"Everyone worked well as a team, it was a huge effort, and with a good ending, really."
Asked if it was a struggle to keep composure amid the crisis, he said: "There was no other option, basically - that's where our training and experience worked."
Mr Smith said his only comparable experience was helping injured senior constable Grant Diver from within the cordon around the Napier Hill home of gunman Jan Molenaar less than three years before.
"They were different situations, but sometimes in our jobs we get into situations where we have to step outside what our normal role is and into something that doesn't happen often," he said.
"Unfortunately, it happened to me in such a short space of time in a long career."
HONOURED
Five others were last night recognised for their efforts with New Zealand Search and Rescue certificates:
* Nelson Colyer, Coastguard Canterbury.
* Brook Rapson and Murray Phipps-Black, Worser Bay Surf Life Saving Club.
* Wayne Keen, LandSAR South Canterbury.
* Shane Beech, Coastguard Maketu.