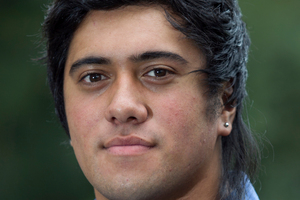 Te Haumia Warren has faced up to bullies without becoming a bully himself.
Te Haumia, 17, a final-year student at Edgewater College, was bullied by another boy in his first year at primary school.
"He just pushed me a lot," he says.
One day, his father, Daniel Warren, saw the boy knock Te Haumia to the ground. But instead of arguing with the other boy or his family, Daniel arranged for his son to learn a form of kung fu.
The next time Te Haumia was bullied, in his third or fourth year of primary school, he knew how to defend himself.
"There was an incident walking in an alleyway," he says. "I just defended myself. That was the last time. After that I knew how to avoid danger."
It wasn't just the kung fu. Te Haumia was brought up by a "tight" extended family on both his mother's and his father's side.
Daniel and his siblings and their families hold monthly whanau meetings.
"I was brought up just to be respectful and mind others," Te Haumia says.
"At the same time, to have a slight arrogance about myself maybe, but not like a big man - kind of like at the same time as being respectful, not letting other people step over you."
His parents are managers with the Solomon Group education service in Manurewa. Daniel was assistant coach of his son's waka ama team when they competed in New Caledonia two years ago, and is coaching another team going with Te Haumia's team to the next tournament in Canada in August.
His mother, Linda Warren, says she taught Te Haumia and his younger sister to help others.
"If you see someone who is out of food, invite them over for a meal," she told them.
Te Haumia, in turn, says he is "protective of my sister and mother".
Daniel Warren says his advice for other parents is simple: "To bring your children up how you would like to be brought up, and not necessarily how you were brought up. Don't be too proud to show your love for each other even as the children grow older."