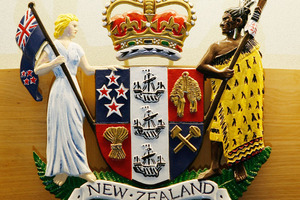 The sentencing of a Kawakawa man who poured a jug of boiling water over his girlfriend in a jealous rage had to be called off after he kept interrupting the judge with expletive-laden comments.
Peter Bevin was due to be sentenced in the Kaikohe District Court yesterday on charges of assault with intent to cause grievous bodily harm and assault with intent to injure.
The attack left the victim, Bevin's girlfriend of four months, permanently disfigured.
According to the summary of facts read by Judge Greg Davis, the victim had arranged a ride to Kaikohe to stay with a female friend one night last November. Bevin believed she was being unfaithful and confronted her when relatives dropped her home again.
At that point Bevin interjected, saying the summary of facts was "a lot of s***" and "just teko [faeces] coming out of her korero".
Judge Davis asked Bevin to keep his language appropriate to the courtroom, then continued.
"You punched her multiple times to the head, with a clenched fist and using full force ... You then interrupted your attack to get a recently-made cup of coffee and poured it over her head and front."
Bevin trapped the victim in a corner where she couldn't escape, and when she fell to the floor he continued to punch and kick her repeatedly, Judge Davis said.
At that point Bevin interrupted again to dispute the court's version of events.
"Your honour, f***, if I'd done that, her head would've been like a pumpkin," he said.
Judge Davis silenced him again and told the court how Bevin had then poured the contents of a recently boiled jug over her back, which was protected only by a T-shirt.
When Bevin launched another expletive-laden interjection Judge Davis halted proceedings and had him returned to custody, saying his constant interruptions made sentencing impossible.
Earlier Bevin's lawyer, Doug Blaikie, said his client's life had been blighted by "various addictions" and he was distressed when shown photos of his former girlfriend's injuries.
"He said, "I'm sick of hurting people', but he needs to cure his addictions."
Crown lawyer Bernadette O'Connor, however, was unconvinced by claims of Bevin's remorse.
He had continued using alcohol, cannabis and methamphetamine after his last treatment for addictions.
"The victim will carry around the scars of what he has done for many years to come," she said.
A second attempt at sentencing is scheduled for June 6.
Bevin had earlier pleaded guilty and accepted the summary of facts.
A sentencing indication suggested a prison term of six years or more was likely.
For more articles from this region, go to Northern Advocate