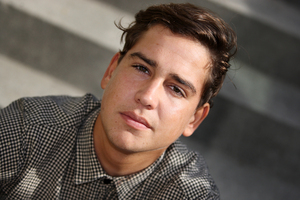 A Tauranga teenager who lost an eye in a workplace accident wants to go for coffee with his convicted boss.
Aaron Wilton-Jones was blinded in his left eye by a chisel on his second day of work but is willing to forgive his former employer who pleaded guilty in Tauranga District Court over the incident.
Aaron hasn't heard from Kerry Bruce Duggan, trading as Mr Alifix, since before the operation where his damaged eye was removed.
"It'd be nice if he gave me a call or something and wanted to meet up for coffee,'' the 18-year-old said.
Aaron is prepared to forgive Mr Duggan, following in a family tradition of forgiveness.
Last year, the Wilton-Jones family forgave Samuel Kneebone, the teenage driver who fell asleep and killed Aaron's grandmother, Diane Wilton-Jones, 68, on State Highway 29 in 2010.
Aaron said the incident in which he lost his eye was also an accident.
His father, Chris Wilton-Jones agreed.
"We don't want to shoot him [Mr Duggan] down, he's a human being. He's been through the court and I'm sure he's been through a whole lot of stuff with his own family through [this].''
At the same time, it didn't take much to send a gift voucher, or pick up the phone, Mr Wilton-Jones said.
Mr Duggan was fined $10,000 and ordered to pay $15,000 reparations to Aaron, after last week pleading guilty to one offence under the Health and Safety in Employment Act. Mr Wilton-Jones said the payout was "minimal''.
Mr Duggan told APNZ the Department of Labour was wrong to prosecute him and he would have denied the charge if he could have afforded to.
He said Aaron must have done "something stupid that no one saw to get that tool in his eye''.
Mr Duggan was unavailable for comment today on Aaron's gesture.
Aaron told the Bay of Plenty Times the incident was an accident and Mr Duggan's comments were insulting. But he did not hold a grudge against his old boss.
The incident happened on May 9 last year when Mr Duggan and Aaron were on a third storey of scaffolding, removing window panes from Tauranga Boys' College gym.
The Department of Labour said Mr Duggan taught Aaron to remove rubber seals using a screwdriver but gave him a chisel for the task when they were working at the gym. The court heard that as Aaron tried to remove the seals, he slipped and the chisel hit his eye.
Aaron said Mr Duggan hadn't mentioned anything about wearing safety glasses. Following the accident, Mr Duggan walked him over to the nearest medical centre, Central Med, and the pair were referred to Langford Callard Optometrists and then Tauranga Hospital. Aaron had surgery and was told it was unlikely he'd keep his eye.
"After a few weeks they knew it was dead,'' he said.
Aaron had a second operation to remove his left eye in November and a prosthetic one was put in its place in December.
The Department of Labour's Ona De Rooy said an investigation found a few simple measures could have significantly reduced the potential for harm.
"It is unacceptable that Mr Duggan failed to adequately prepare his employee to carry out this work.''
Aaron's mother Vicki Reyland said Mr Duggan had been "too relaxed''. Reparation of $15,000 would be paid to Aaron in instalments but Mr Duggan should be made to ``go out and get a loan,'' she said.
Luckily her son saw the bright side of life. "This could have bummed him out big time but it's actually made him look at his life and buckle down and get serious ... but it's the principle.''
Since the accident, Aaron had been working for his dad at Waterless Car Valet.
ACC gave Aaron a lump sum of $10,000 and he is using some of that money for a surfing trip in Indonesia. Losing an eye has affected his distance perspective and peripheral vision but not his enthusiasm. When he returns from his holiday, he plans to set up his own car-washing business.
"It took me a few months to get used to it all and get my judgment back. In the dark, walking upstairs, that's hard,'' he said.
"But I'm young and have picked up using one eye ... We only live once. You can't let anything hold you back, there's so much more out there.''
- APNZ