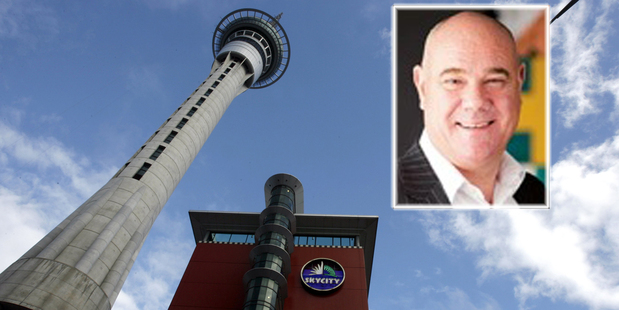 The former chief operating officer at SkyCity has been convicted of refusing to give a blood sample to police.
Stuart Damien Wing was convicted and fined $700 after pleading guilty to the charge at Manukau District Court last Friday.
He was also ordered to pay $132 court costs and $110 in reparations to police.
The charge related to an incident in Taupo on March 30 but was transferred to Manukau.
SkyCity had previously confirmed Wing had resigned and said he was returning to Australia for "personal reasons''.
Asked if SkyCity had been upfront about the resignation, spokeswoman Grainne Troute said the company's concern was to "respect the staff member concerned''.
She said it was inappropriate to discuss the specific circumstances regarding an individual employee.
"This would be a breach of trust and confidentiality.
"That said, given the drink driving charge is a matter of public record we confirm that we did advise our regulator, the Department of Internal Affairs on Friday, the day Mr Wing appeared in Court.
"For the record the charge was for an incident that happened out of Auckland and in Mr Wing's personal time.''
Wing was responsible for all operations in Auckland, including gaming, restaurants, bars, hotels and conventions.
It is understood his name is on the casino's licensing certificate.
The Department of Internal Affairs checks on people listed on licensing certificates to ensure they are "fit'' to hold them.
A department spokesman, Trevor Henry, said Wing was listed as an associate person on the SkyCity Casino licence, as are other members of the executive.
He said he could not say whether a conviction for refusing to give a blood sample to police would stop an executive from being listed as a associate person on a casino licence but that was now a hypothetical question, given Wing's resignation.
Prime Minister John Key said he was not aware whether Wing's departure or the circumstances around it would have any effect on negotiations between the Government and SkyCity over a national convention centre.
Mr Key said he became aware of the circumstances of Wing's departure only after reading reports this afternoon.
Asked whether SkyCity should have been more upfront about the reasons for Mr Wing's departure Mr Key refused to comment saying, it was a matter for the company.
According to SkyCity, Wing joined the company in March last year after 15 years in Australia's hotel industry.
He was previously managing director of Tabcorp's Jupiters Hotel and Casino on Australia's Gold Coast.
- APNZ