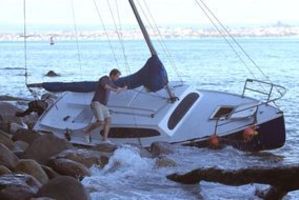 The owners of an uninsured yacht which smashed on rocks at the base of Mauao are devastated by the "nightmare'' of losing their sailing dream.
Kim Bade and Lorna Perry, both 27, only sailed their new pied piper yacht from Auckland to Tauranga last week, and had not yet arranged insurance.
Mr Bade said the couple had been planning the yacht purchase for "a couple'' of years. But a sailing trip last weekend turned out to be their only jaunt in the boat before it broke from its Pilot Bay mooring and crashed on to rocks, bursting a 1m hole in the wooden hull.
"It's just devastating,'' Mr Bade said. "We've spent the last couple of months thinking about it. We were so excited thinking about summer ... we'd been for one sail on it and that's it. We'd been planning to fix it up and have it as a little boat we could take our friends out (on) and do weekend trips.
"We bought it a couple of months ago up in Auckland and we finally sailed it down here a week ago. We'd been saving up for a little while. We'd put a lot of work into getting it down here and fixing it up,'' Mr Bade said.
The 22-foot yacht, named Nivana, was found around 6.30am yesterday pinned to the base of Mauao. The hull had been pierced and the boat was full of water, leaning about 30 degrees starboard.
"You feel devastated, don't you? I guess a lot of people with boats on moorings, you kind of have nightmares of coming back and seeing your boat on the rocks. It felt like a bad dream,'' he said.
The owners were alerted to the wreck by the Tauranga Harbourmaster and arrived to survey the damage at 8.30am, about 100m west of North-west Rock, opposite Matakana Island.
"The Harbourmaster rang us up, that was about 8am. They were calling to ask if I was the owner ... they just said `it's come up on the rocks at the Mount', and I just thought, 'Oh, you're joking','' he said.
Sunday night's super moon high-tide may have caused extra strain on the boat's mooring line, Mr Bade said. "The mooring, it's come off. It's snapped. I don't don't know if it was the high tide ... it's kind of just chafed its way through at the bottom. I don't know how those moorings are certified. And we didn't have insurance on the boat - it's quite hard to get insurance on boats on moorings - but it [the predicament] is a good argument for insurance, isn't it?'' he said.
At 2.15pm yesterday, the ship was lifted from the rocks by a helicopter that had been in use in the Bay of Plenty for Rena recovery. It was taken to the Port of Tauranga. Braemar-Howells spokeswoman Monique Balvert-O'Connor said Rena's owners had wanted to help when they learned of the shipwreck.
"The Rena owners were pleased to be able to use some of their assets ... to give something back to the Tauranga community,'' she said. The next step wasn't clear to the owners, after the generosity of the heli-lift, Miss Perry said.
"It was pretty amazing.
"They just tied wraps around it and ... lifted it off the rocks. [Now] we're just going to touch base with the port and find out what to do from here,'' she said.
For more articles from this region, go to Bay of Plenty Times