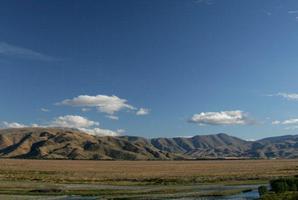 The search for a missing Dunedin tramper in an extremely remote and rugged area of Otago is continuing today as rain approaches.
David Palmer, 53, has not been seen since Saturday, when he set off alone on what was believed to be a three to four hour tramp on the Dingleburn Track at the Ahuriri Valley Conservation Park.
Police and Search and Rescue (SAR) teams began searching for him around 6pm on Sunday, and the search continued through Sunday night using a helicopter with night vision capabilities and ground teams with a trained tracking dog.
Mr Palmer's car was found at the base of the track.
At daybreak today around 50 SAR volunteers and Police SAR staff from Dunedin, Queenstown and Twizel resumed a ground search of about 200 square kilometres near Birchwood.
A helicopter is also being used.
Oamaru Police community constable Bruce Dow said Mr Palmer had a medical condition and was wearing shorts.
MetService forecaster Geoff Sanders said temperatures had reached near zero every night since Saturday.
It had also been frosty but was dry and still, however, rain was expected in the area later today and into tomorrow.
A positive of this was the cloud would prevent it getting too cold at night, he said.
North Otago Tramping and Mountaineering Club vice-president John Chetwin said the incident showed the need for all trampers to be "prepared for the worst" no matter how good conditions might be when they set out.
"Our club guidance for members gives them a list of things they should take on day trips, and it's quite extensive - boots, waders, parker, windbreaker, waterjacket, food and so on.
"And that would apply particularly up there, where it is quite remote."
Given the ease with which the weather in New Zealand can change, trampers had to be prepared for changing conditions, he said.
"It is not like walking on footpaths; the tracks are not paved and often not marked even."
Police remain positive that Mr Palmer will be located safe and well.
- APNZ