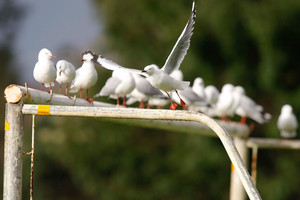 Fish & Game officers fear non-game birds are being illegally targeted by hunters afer dead seagulls were found floating in the Waihou River in the Hauraki Plains.
The discovery was made by officers keeping tabs on hunters during the opening weekend of the game bird season.
Auckland/Waikato game bird manager David Klee said a foggy start to the day was no excuse.
"Targets must be identified beyond any reasonable doubt. We will take a hard line over any such offending, with no such excuses accepted."
Fish & game officers spoke to more than 150 hunters across the Plains area, seizing shotguns and a large quantity of banned lead shot.
In one case a shotgun and ammunition were taken from a hunter in a maimai beside a pond who had seven boxes of lead ammunition and 53 loose rounds.
In another incident rangers came across a maimai containing four people with four guns, even though one claimed he wasn't shooting.
"It is an offence for a hunter to have two guns ready to fire, or else one of those hunters was shooting without a licence," Mr Klee said.
"Either way ... an offence was being committed and the old excuse of 'I have a spare gun in case one stops working' just doesn't wash. If you must have a spare gun, it needs to be in a non-useable state in a gun case at the back of the maimai."
The game bird season opened on Saturday morning and runs for six weeks for dabbling ducks and later for some other species.
Mr Klee said as always a "small minority" were breaking the rules.
"We are talking about 95-plus per cent of hunters who are happily complying with the rules and regulations. We found hunters who were nearing their bag limits but none who were over."
- APNZ