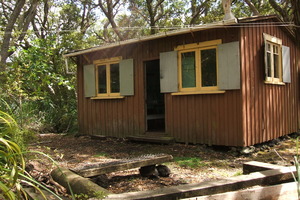 The Devonport Scouts' 89-year-old Rangitoto Island hut is getting a makeover.
Scoutsville, a bach built almost a century ago on Rangitoto Island, will get a big makeover this week.
Christopher Jones of the 1st Devonport Scout Group said the tiny wooden hut was extremely rundown but tomorrow, Bank of New Zealand volunteers would take equipment to the island to do minor repairs, painting and cleaning so it could be used again.
Mr Jones said the hut gave young people in Scouts and Guides the opportunity to get out into the outdoors, go tramping and explore Rangitoto and Motutapu Islands.
For many years Scouts took a launch - then in more recent years the ferry - across from the mainland and stayed at the bach, fishing in the area, swimming, playing, learning bush skills and tramping.
"It's been over 20 years since the bach has had any significant repairs or maintenance done to it so volunteers from the Bank of New Zealand will be coming over to give it a makeover as part of their Closed for Good community service day," Mr Jones said.
The hut is nestled in a grove of pohutukawa, about five minutes walk from Rangitoto Wharf, and was built in the style of a tramping hut.
The main room has triple-decker bunk beds that can sleep around 12 people. The bach has a kitchen with an LPG stove, but there is no electricity or toilets. Rainwater is collected from the roof.
Four years ago, the Scout troop was also rundown.
"We were on the brink of closure," said Mr Jones, a father who decided it was wrong to let one of New Zealand's oldest Scout groups disband.
So he led a revival.
"At the start of 2009, there were only three Cub Scouts in the group.
"Now there are over 80 youth members: 15 Keas, 45 Cubs, 19 Scouts and four Venturer Scouts. There are also over 20 adults in service in the group," he said.
The group's historical record shows that in 1923, under the leadership of former Scout master Mr A.E. Knowles, the troop built Scoutsville.
"From 1928-1939, the troop was based in the bunker at the top of Mt Victoria, now used by the Devonport Folk Music Club."
In 1946, after World War II, the troop moved to The Den in Allenby Ave and have been there ever since.
"Devonport Scouts have been serving the Devonport community for over 100 years," the historical report says.