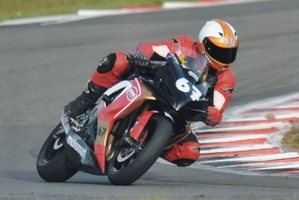 Motorcycle racing has resumed at Manfeild near Feilding this morning, despite the death of a rider in a collision with another bike.
Mark Brehaut, 45, died during the first race of the winter season, while another man was in hospital with serious leg injuries, after the pair collided yesterday.
Local iwi were brought in to bless the track before a lap of honour this morning.
Motorcycling New Zealand president Jim Tuckerman said riders had been offered support.
"We have a counselling system on offer for anybody who feels the need to talk to somebody. You can appreciate that this actually effects different people, different ways."
Mr Tuckerman says most riders recognised the sport was dangerous and tragedy is always possible.
Mr Tuckerman said he was satisfied with the way a fatal accident at Manfeild was handled.
Everything that could be done after the crash, was done.
"We have a very, very good team on the ground at Manfield. As far as we're concerned everything was done excellently yesterday we've had a report come through overnight which was very well done by our officials."
Family watched in horror as Brehaut died in the crash. It was his first big race after fighting back from a near-fatal brain condition.
Brehaut was killed when his motorbike collided with another competitor during the first race of the Victoria Motorcycle Club Winter Series in the Manawatu about 12.40pm.
A 53-year-old rider was rushed to Palmerston North hospital with serious leg injuries.
Brehaut's wife, Janice, and sister Sonya McDonald, were in the stands.
Brehaut, from Wellington, had devoted his life to fundraising for charity after surviving a life-threatening brain condition. Victoria Motorcycle Club vice-president Andrew Presant said: "He was a hell of a nice guy who loved his sports and his charities, particularly the Neurological Foundation."
He said Brehaut's wife and sister left the track after the accident to remain with him.
He said the family wanted the race to continue today.
Brehaut had kept an online journal of his experiences "living life to the full" after surviving life-threatening brain surgery in 2008.
Brehaut was diagnosed with colloid cyst - a cyst on the brain - after experiencing migraines much of his life.
Blogging ahead of yesterday's race, Brehaut wrote "it all starts this weekend" and encouraged friends and family to go and watch.
After recovering, Brehaut got back on his bike six months later and created Team Brehaut Racing - which supports charities, including the Neurological Foundation, Hospice Wanganui and the Cancer Society.
"Mark is a very good example of someone making the most of their second chance at life," the website states.
Brehaut was also an accomplished soccer player, a goal-scoring centre forward for Wanganui City in the Central League for many years.
He had also worked in the navy.
Rider Mark Wigley said he was on the racing track when the bikes collided.
"It was horrific. I was in the same race but I didn't know the guy.
"It was the last lap and the race was called off," Wigley said.
Tuckerman said: "It's a sad day for motorcycling and our sympathies go to the riders and their families."
Police said the serious crash unit were investigating.