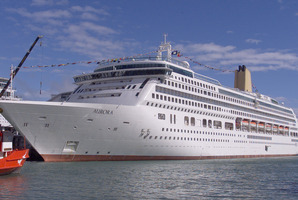 A feuding couple's farcical attempt to smuggle a record $3 million cocaine haul into New Zealand was one of "the dumbest" criminal enterprises ever seen by the US judge who sentenced them.
Tony Wilkinson, 43, and Kirsty Harris, 26, had drunken fights and brazenly snorted cocaine while they were supposed to be travelling incognito among a "sea of white-haired seniors" on the P&O cruise ship Aurora.
The party-loving Harris even cheated on her older boyfriend with another alleged cocaine smuggler, 27-year-old Australian Ahmed Rachid, who was travelling on the same cruise, according to court documents.
This led to a drug-fuelled fight at one of the ship's bars which brought them to the attention of Homeland Security officials in San Francisco in February.
In sentencing the pair to seven years, three months' imprisonment, Judge Jeffrey White said they were guilty of "felony" stupidity and took pity on the pair.
"It was about the dumbest thing he could have ever done," said White, sentencing Wilkinson to four years and two months in a federal penitentiary. If the two had not pleaded guilty, they would have faced a mandatory 10 years in jail.
Despite the comical nature of their plot, New Zealand police and the US Justice Department said it would have caused "real harm".
Detective Senior Sergeant Chris Cahill, of the Organised Financial Crime Agency, said it would have been the largest cocaine haul ever to reach New Zealand.
"Certainly it would have significant impact on available supply and potential large profits for criminal groups who supplied this," he said. "It just goes to show that there is the market for that amount in New Zealand."
Wilkinson, a father-of-one, hatched the "hare-brained scheme" with Harris and an unknown Colombian to smuggle nearly 6kg on a cruise ship after he became mired in debt. They boarded the ship in England and picked up the drugs on the Caribbean island of Curacao. They were to keep some of the profits from the sale - and send the rest back to Colombia.
Somewhere between Curacao and the United States the couple had a falling out - and Harris struck up a romantic relationship with Rachid, who is also alleged to have picked up 7kg of cocaine on the island.
US officials say that it was a "scarcely believable" coincidence that each was unaware the other was smuggling drugs.
Wilkinson's defence attorney Mary McNamara said her client became "enmeshed in a drug distribution endeavour that proved far beyond his ability to carry through".
Customs New Zealand said they were aware of the San Francisco drug haul and officers with sniffer dogs targeted the Aurora when it arrived in Auckland, but no drugs were discovered. However, four days later in Sydney, UK citizen Ronald Fletcher was arrested trying to disembark with 30kg of cocaine that he had allegedly transported through Auckland and the Bay of Islands.
- Bevan Hurley and James Robinson
Few drug checks on cruise passengers
Cruise ships are opening New Zealand's door to drug smugglers, with minimal Customs checks on people and luggage arriving by sea.
Drug detector dogs spent just four hours working on cruise ships in Auckland last year, despite more than 200,000 passengers arriving on 100 vessels. The sniffer dogs were used again when the P&O liner Aurora visited in February but they failed to detect 30kg of cocaine allegedly smuggled by UK citizen Ronald Fletcher.
Last year's figures, released under the Official Information Act, reveal there were no sniffer dog checks at Wellington and Christchurch ports.
At least 80 cruise ships are expected to visit Auckland this year. Customs Service spokeswoman Helen Keyes said officers used "a standard border risk assessment process" when they checked the passports of cruise passengers. "The Customs Service has deployed drug detector dogs when there has been determined a need to do so." She would not identify which ships were checked last year, but said cruise ships were "generally rated as low risk for drug smuggling".
Green Party border security spokesman Steffan Browning said New Zealand would quickly become a "soft touch" for drug smugglers.
- Celeste Gorrell Anstiss