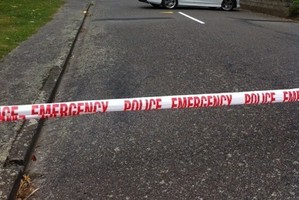 Residents of a central Auckland street say not enough has been done by authorities to close down what they believe is an illegal brothel and tinnie house on their road.
However police say they need to gather evidence and people have been "less than cooperative" in their investigations.
The fire service was called to the Tuarangi Road, Grey Lynn property about 10.12pm last night after a couch was soaked in an accelerant and lit with a candle.
A fire service spokesperson said three trucks were called and a fire in the property's carport was extinguished.
A scene guard remained at the site overnight and fire safety are investigating the incident.
A resident on the street, who did not want to be named for fear of his family's safety, said it was the second such incident at the address in the last year.
"There are two cars burnt out in the carport," he said this morning.
The man said he has seen detectives this morning taking photos of the house, which has been cordoned off.
He claimed the property was being used to sell drugs and an illegal brothel was being run on the site.
"No one is doing anything about it. They continue to deal - they've been caught dealing to nine-year-old kids. They also run an illegal brothel on the front property," the man alleged.
He said on the weekends the house has visitors "every 10-15 minutes".
"On a Friday night there is a line of people down the side of the house. They've got a cage constructed for dealing tinnies.
"Everyone in the neighbourhood knows about it. They just can't understand why it still exists."
He said the people at the property intimidated his wife and children.
About four or five people live in the house, he said.
The man said he had spoken to police and local MP Nikki Kaye, but felt authorities had not done enough to shut the house down.
Auckland City district communications manager Noreen Hegarty defended the police's actions, saying evidence needs to be gathered before they can act.
"You have to gather evidence, and you have to have information to corroborate evidence, and some people have been less than cooperative when it comes to progressing investigations. Having said that, people have been convicted and they are coming up for sentencing on Monday. The fact that some people have been bailed to that address is a matter for the court, it's not a matter than police can interfere in.
"Suffice to say, the owner and resident of the property has got some pretty serious matters before the court. He is appearing on Monday to be sentenced on some offences that he has already been convicted of, including possession of class C cannabis for supply, supplying a class C drug, setting a man trap, and theft of electricity. That relates to some activity by police in August last year."
Ms Hegarty said another man, who is also connected with the property, was charged with possession of a class C cannabis for supply, supplying a class C drug, and possession of an offense weapon.
Ms Hegarty was not sure if all the charges related to offenses at the house.
"But it has certainly come to our attention, that property, in relation to drugs offenses.
"There has been a lot of activity in and around that address since August and earlier last year. Once again, if people visiting the property who we may have spoken with or people have been offended against but don't want to tell us too much about who is responsible or the circumstances under which they may have been offended against, then it makes things even more difficult."
Ms Hegarty said she was aware people were saying a brothel was being run on the property, but police were not aware of any illegal brothel activity and that was a matter for the council.
She said people who do suspect illegal activity in their neighbourhood to contact police.
Ms Hegarty said a scene examination has been completed after the fire, however the occupant of the home has not laid a complaint.
"He has not been as cooperative as we would have liked."