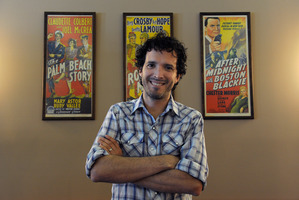 Oscar winner and one half of folk-comedy duo Flight of the Conchords Bret McKenzie has put himself on the auction block to support Oxfam's fair trade campaign.
The winner of the Trade Me auction, listed today at the start of Fair Trade Fortnight, will get the chance to sit down with McKenzie over a fair trade cuppa in Wellington and a guitar autographed by him and his Flight of the Conchords partner Jemaine Clement.
The proceeds of the auction will go towards Oxfam's push to promote awareness of fair trade and raise funds for its work with communities throughout the developing world.
McKenzie said buying fair trade products was a simple way of making the world a better place.
"So go and buy them now. Stop what you're doing and buy some fair trade goods," he said in a statement.
"Move away from the computer. Stand up. Put some clothes on and go to the shops and get some fair trade stuff.
"What's wrong with you? Why are you still reading this? Are you addicted to reading? Get a friend to help you stop reading. Meet them at a cafe and have a cup of fair trade coffee and talk about your reading addiction. Get moving. Hurry, before it's too late to make the world a better place."
Oxfam said fair trade was an effective way for shoppers to help growers work their way out of poverty through better prices, decent working conditions, environmentally sustainable farming methods and investment in local community development.
Last month Oxfam gave people the chance to bid on coffee dates with Sir Graham Henry, actors Shane Cortese and Michelle Langstone, Starfish fashion designer Laurie Foon and restaurateur Steve Logan.
It coincides with Oxfam's Biggest Coffee Break in support of fair trade. Some 40,000 people, schools and workplaces participated last year.
- APNZ