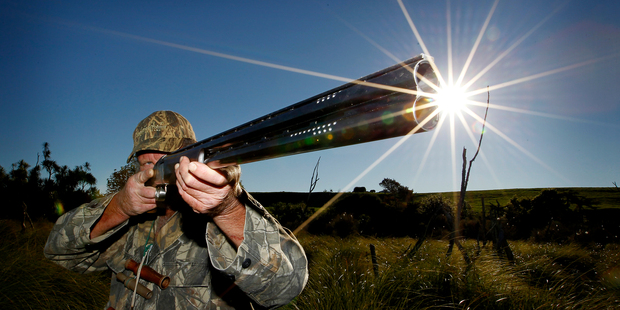 When duck shooting season starts early tomorrow, Murray Davies will have his sights firmly set on Canada geese.
"They are always a huge challenge and they are just probably the most alert gamebird we have got out there, they are hard to get," said the 62-year-old from Hamilton.
"But if I can't get them I'll just go for the general mallard and paradise ducks."
Mr Davies is one of 40,000 people who will flock to their maimai, ponds and rivers around the country when the six-week season starts at 6.30am tomorrow.
He has been shooting ducks since he was in his early 20s and early tomorrow morning he will go out with his two sons on a couple of private ponds at Hangatiki near Te Kuiti.
Mr Davies likes shooting as a sport, and as a bonus for his efforts there's the eating.
"I love the breast meat off the Canada geese," he said.
"You turn it into schnitzel and cook it exactly how you would cook beef schnitzel, just beautiful."
Fine weather is expected throughout most of the North Island tomorrow - which Auckland Waikato Fish and Game southern gamebird manager David Klee said was not necessarily good news for duck shooters.
"Birds will still be there but if you are a decoy shooter it's probably going to be a bit more difficult to get them to come in," he said.
"If you have a bird flying a kilometre and a half up in the air it's a lot harder for them to see your decoys or respond to your calling.
"That might mean a few less get shot over the opening weekend but there will be plenty around later in the season."
Mr Klee urged people to read their regulation booklets. There were changes that duck shooters needed to be aware of, including an increased limit from six dabbling ducks to 10 in the Auckland-Waikato region.
Meanwhile, Mountain Safety Council firearms safety and hunter training programme manager Mike Spray urged duck shooters to take caution this year after two "completely avoidable" shooting incidents last year.
Phillip Bright, 53, was accidentally shot dead by his brother, Barrie Bright, on a private Waiuku property.
In the other incident a man shot himself in the foot after his shotgun discharged while he was in a maimai.
Mr Spray said in the 10 years to the end of last year there had been 16 duck-shooting related injuries and "all of them were avoidable - not one of these accidents needed to happen".
"I think one of the primary causes is people having guns loaded when they should not be loaded.
"There are also other things like walking from one pond to another with a loaded firearm, having loaded firearms in vehicles, or pointing a firearm at someone, which is in breach of rule 2 that you should always point a firearm in a safe direction," he said.
A spokesman for New Zealand Fish and Game said about 40,000 duck shooting licenses had been sold for the season. Those shooting on their own land did not require permits.