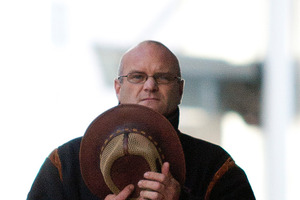 A self-proclaimed gun enthusiast says he agreed to shoot his neighbour's dogs but "it was the wrong decision".
The Crown says Tony Campbell and his friend Russell Mendoza went on a "commando exercise" in January 2010 when they shot 33 of Rowan Hargreaves' dogs on a rural property north of Auckland.
The pair have denied firearms charges and four charges of wilfully ill-treating an animal.
Under cross-examination from Crown prosecutor Joshua Shaw at Auckland District Court today, Campbell said there was a funeral for Mendoza's fox terrier on the afternoon of the shooting.
He said Mendoza's pet - known as Otie - was mauled by one of Mr Hargreaves' mastif-cross dogs.
Campbell said Mr Hargreaves' friend Richard Hawkings came over to Mendoza's house and was waving a gun around and muttering "about killing all the dogs".
"He was on a mission."
Campbell said he refused "five, six or seven times" before Mr Hawkings begged him for help and said Mr Hargreaves had given his consent for the dogs to be shot.
"I said: 'I don't want anything to do with those f'n dogs'."
He said Hawkings also talked of having already shot two dogs and said it had taken five to seven shots to the head.
"After hearing of the way the dogs had been put down, I said, 'okay, I will come do an assessment'."
The South Islander, who calls himself Tussock, said the dogs were living in squalor and he agreed to go for the community because he believed Mr Hargreaves' dogs had mauled his sheep.
"I felt sad and sorry for the dogs. I felt sad and sorry for Mr Hargreaves and the position he had created - this mass of dogs."
He said "things didn't feel right" but he agreed to go down to Hargreaves' place anyway.
"I sort of knew they were shooting dogs ... That's no way to put down dogs, that's animal cruelty."
Crown prosecutor Joshua Shaw asked if what he did was not also animal cruelty.
Campbell replied: "No way."
He said he took Mendoza as "another set of eyes". Mendoza also helped take 21 puppies out of a campervan so they could be shot too
"I couldn't do it myself."
Mr Shaw asked if he was thinking straight "with all the things playing on his mind".
Campbell replied: "I was thinking straight but it was the wrong decision."
He agreed that he saw steel and concrete that could have caused bullets to ricochet and there were also bottles of flammable LPG at the site.
"Yes, there were risks but it was done safely ... I didn't want to kill the dogs."
Much of Campbell's evidence is different to the accounts given in court by Mr Hargreaves and his friend Mr Hawkings.
The trial continues.
- APNZ