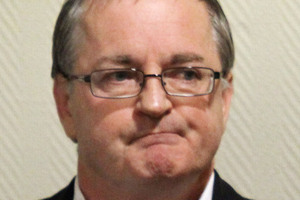 A Christchurch businessman who admitted a $103 million fraud that funded a "lavish'' and "grandiose'' high-rolling, jet-setter's lifestyle has been jailed for eight years today.
Gavin Clifford Bennett, the 54-year-old former owner of IT firm DataSouth, had earlier admitted being behind the wide-ranging Ponzi-style scheme, which included a $23m fraud against South Canterbury Finance (SCF).
He was caught only after one of the Serious Fraud Office's largest-ever investigations.
Now he is behind bars after a judge at the Christchurch District Court sentenced him to eight years with a minimum non-parole period of three and a half years.
SFO prosecutor Sarah Allen said today: "The scale of fraud in this case is unprecedented.''
"His personal expenditure was unrestrained and does not sit comfortably with an expression of remorse.''
She cited eight aggravating features, including the amount, the prolonged period, the "gross breach of trust'', high level of premeditation, efforts to avoid detection and the effect on his victims.
"It would be wrong to describe these crimes as victimless.
"He may not have intended the taxpayer to make a loss, but they have, to the tune of $23 million.''
In March, Bennett pleaded guilty to six representative charges under the Crimes Act relating to more than 900 separate incidents of dishonesty using a document, and a further two charges of false accounting.
For almost six years, between April 2005 and March 2011, he was the sole director of Christchurch-based Datasouth Group where he orchestrated the bold scam.
The trained accountant created false documents relating to the lease of IT equipment to fraudulently obtain funds from SCF totalling $65.5m and falsified entries in Datasouth Finance financial statements by an estimated $38 million in order to retain the ongoing finance facility.
The resulting loss to SCF was at least $23m.
Bennett used the dishonestly obtained funds to repay earlier false lease agreements in a manner similar to a Ponzi scheme and to meet business expenses.
He also used the money to fund his high-rolling lifestyle - which Judge Jane Farish today described as "exorbitant'' and "extraordinary.''
He partied in luxury Sydney waterfront apartments, surrounded himself with models and actresses, was chauffeured in BMW and Mercedes-Benz cars and "drank Dom Perignon like it was Speight's''.
The SFO earlier revealed the extent of the "significant areas of personal expenditure'', which included the rental of two "luxury'' residential apartments in The Rocks area of Sydney for A$463,000 and regular payments to "various female companions'' totalling A$900,000.
A staggering A$429,000 was spent on food and beverages, of which "a significant amount'' was spent at the ritzy Hemmesphere bar and restaurant, where the cheapest bottle of Dom Perignon goes for around $480 and he was given VIP treatment.
A further A$161,000 was spent on international air travel to Argentina, New York, Hong Kong, Las Vegas, New Caledonia, Rio de Janerio, San Francisco, Paris and London. Jewellery and flowers, including purchases at Tiffany & Co, amounted to A$16,000, and he spent a further A$163,000 on clothes and apparel from Louis Vuitton, Cartier, Chanel, Giorgio Armani, Barney's and Bloomingdales in New York, Victoria's Secret, Paul Smith, Gucci, Jimmy Choo, and Harrods of London.
While the SFO say it was a $103m fraud, his defence counsel James Rapley rejected that figure today, saying it was a $64.5m swindle.
He said it was difficult to estimate the personal gain for his client, but accepted it was "in the millions.''
Mr Rapley also said Bennett "lived the high life'' on the profit from his scheme, which was "doomed to failure.''
But Judge Farish said it was the scale of the fraud which put Bennett into the high level of offending.
"This was an unprecedented level of fraud in our criminal history.''
She told him: "The company was your alter ego Mr Bennett, and your alter ego got away from you.''
One former executive of DataSouth Business Solutions Ltd, a subsidiary of Bennett's main company which he set-up in the mid-1990s, told how Bennett was ferried around in chauffeur-driven BMW and Mercedes services - which cost more than A$50,000 in corporate car services.
The ex-worker told of "lavish'' office parties and being whisked across the Tasman to hit Sydney's exclusive hot-spots where Bennett "drank Dom Perignon like it was Speight's''.
"Gavin went out of his way to make us think the business was doing well,'' said the former employee, who did not wish to be named.
"There was no hint of anything illegal going on behind the scenes; in fact, it was quite the opposite.
"When I flew over to Sydney I would get picked up from the airport in chauffeured limousines.
"I went to Hemmesphere with him a few times. I'm sure they've seen a slump in their trading over the last seven or eight months.
"The maitre d' would come up and welcome, 'Gavin, great to see you again,' and take us to a private booth, the waitresses would be waiting hand and foot topping up champagne. It was hilarious.''
The other "running joke'' with Bennett's employees was his lust for beautiful women.
He was often spotted in trendy Sydney bars with models and actresses.
"We called them 'Gav girls'. They were never far away,'' the Christchurch worker said.
"There was nothing secretive about it from his point of view, I think he quite liked the fact he could turn up with these beautiful, young girls from Australia."
One of the models he was linked to was Mariesa Crowder, who met him when he went for a drink at a venue she worked in. Last year, she said he was going to help her start her own firm but they closed it down soon after and she never saw him again.
He also spent time with Marlena Davis, a co-director of Datasouth's Australian arm.
Another executive told of an occasion when "Marlena turned up in this skimpy little dress and this new set of boobs. Gavin made reference to her having new boobs.''
This news was followed by talk of whether Datasouth "owned'' the breasts.
"There were jokes about whether we should asset-tag them.''
Bennett moved to Sydney in around 2006 or 2007, shortly after breaking up with his wife of 20 or so years, Jane.
One of the executives spoken to said he was not surprised when the SFO found irregularities within the business last year.
"I'd go out with [Bennett] for dinner and after a few drinks he'd let a few things out of the bag. When SCF started to hit the headlines, Gavin became very, very nervous. There was a noticeable shift in his behaviour.
"He admitted struggling to sleep; he was quite open to us about that. We certainly weren't aware that his nervousness was because of the scheme he had going on.''
Datasouth went into liquidation last March, leaving all 31 staff out of jobs.
- APNZ