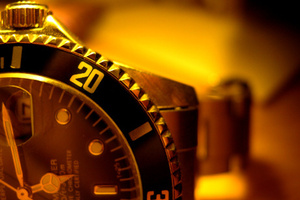 A man who made almost $30,000 from two Canadians on the pretence of selling them luxury watches will likely spend the next nine or so years paying them back.
Shane Arnold Goodgame, 26, of Wanganui, pleaded guilty to two charges of obtaining by deception over $1000 after advertising two watches, purported to be a Rolex and a Patek Philippe Nautilus, for sale online.
He received a total of $29,713.66 for the two.
He was sentenced in Wanganui District Court yesterday to six months' community detention, 150 hours' community work and ordered to pay back both victims.
Goodgame, who is unemployed and on a domestic purposes benefit, will pay the debt at a rate of $50 a week.
At that rate, even if Goodgame's car is sold for $6000 as he indicated yesterday, it will take nine years for him to pay off the remaining reparation.
On May 17, 2011, a man from Canada saw Goodgame's Rolex advertised and emailed to ask about the year of the watch.
He was told it was a 2008 Daytona model, and following an email exchange, agreed on a purchase price of $7132.01 (US$5800).
The amount was deposited into Goodgame's bank account on May 26.
A few days later, the victim discovered Goodgame's email address no longer existed and he never received the watch.
On August 11, another victim, also in Canada, emailed asking about the Patek Philippe watch, and over a series of emails, a purchase price of $22,581.65 (US$19,600) was agreed.
On September 2, 2011, Goodgame received the money in his account and emailed the victim, thanking him for his payment.
The victim never got the watch and all email contact ceased on September 8, with Goodgame's email address becoming invalid.
The victim attempted to get his money transferred back, but was advised it was not possible.
Bank records show within three weeks of receiving the money, Goodgame had spent it all. Among his purchases were clothing and electrical items, including an Apple iPhone valued at $1099.
Police searched Goodgame's house on January 31 and found the Rolex watch, clothing and iPhone.
The Rolex was inspected by a watchmaker and deemed to be fake.
Goodgame's lawyer Stephen Ross said Goodgame was not a recidivist offender or fraudster, but had custody of a child and financial difficulties had resulted in him looking for dishonest ways of bettering his financial position.
For more articles from this region, go to Wanganui Chronicle