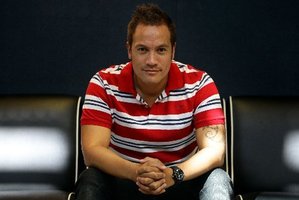 The headline stories across New Zealand today include the The GC backlash, a gonorrhoea epidemic, the man whose house doesn't have an address and a game called "Possum" which involves lots of alcohol and falling out of trees.
The vast majority of people in Rotorua were sighing heavily this morning and questioning everything after watching the premier of The GC which featured local toy-boy Ngahere "Nuz" Ngata, with a local poll spelling bad news for the 'Mozzies.' Meanwhile a Facebook page called Cancel 'The GC' TV Show is doing a roaring trade.

Hawke's Bay people who have been singing in the shower for years or hiding their talent behind closed doors are preparing to come out of the closet and unleash themselves on Tamati Coffey.
On the East Coast, Tairawhiti is "in the grip of a gonorrhoea epidemic" and it is most noticeable in young people aged 15 to 24.
As the Mongrel Mob shootout trial proceeds, the Black Power victim shot outside the Wairoa Mongrel Mob "pad" has denied knowing anything about a gang code forbidding giving evidence, even evidence against members of other gangs. But he said in the dock he could not remember anything.
An unemployed Whangarei man has been sent to live with his mother after police found about 500 cannabis plants growing in his house. Meanwhile two men arrested in one of Northland's biggest paua-poaching busts will do some work in the community.
In Hamilton, Waikato FC coach Declan Edge can be found gesticulating wildly on the touchlines. Meanwhile Hamilton City Council staff are raising concerns their bosses are bullying them but the bosses say there aren't any problems.
Scientists are describing Wanganui's weather in April as "Freakish."
A Carterton man has been told his mail will no longer be delivered to his home because there is no such address where he lives. Meanwhile about 100 "perky women" showed up in Masterton to hear April Ieremia tell them to get off their butts.
Pahiatua police have zapped their first offender with a taser in about two years.
The latest recreational game for Otago University students is called "possum" and involves climbing a tree and drinking huge amounts of liquor, with the last person left in the tree declared the winner. A new element to the game at Dunedin Botanic Garden is security guards chasing you because of concerns about, among other things, the vomit being left behind.
Meanwhile there's been a shock resignation at Dunedin's Forsyth Barr Stadium but the scantily clad women who launched the Zoo ambush there are not responsible.

Over on the West Coast at Kumara Junction, witches and psychics have moved into the old schoolhouse.
Oamaru Police have warned people to be on the lookout for pies after greedy thieves stole hundreds of them from a local bakery. Meanwhile across town it started off like any other morning for 11-year-old Oamaru Mail paper boy Jed McLay, but by the end of the day he was being hailed a saviour.