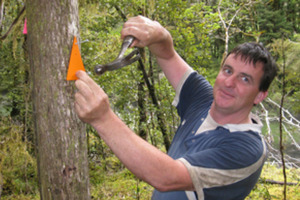 Searchers have recovered debris from the inflatable dingy belonging to the wreckage of crayfishing boat K'Cee in Doubtful Sound but the two crew remain missing.
In good weather conditions, six vessels and three helicopters continued the search today for skipper Bruce Gordon and Darren Allen.
Searchers recovered two wooden floorboards from the inflatable dingy about 10km north of Secretary Island and a bladder from the inflatable life raft, 400m from Noon Extreme Point on the island.
The emergency locator beacon from the K'Cee has been found on the beach with minor damage, but had not been activated, said police.
Water, air and land searches for the crew have continued since yesterday morning. However, after finding the items from the boat, the outcome was looking "less hopeful'', said police.
"Tragically as time goes on the outcome is looking less positive and searchers had hoped for a better outcome at this stage,'' said a police statement.
The Gordon and Allen families acknowledged the search efforts and said they remained hopeful.
"We are still all hoping for a miracle and appreciate all the support and kind thoughts we have received. We would ask for and appreciate privacy at this time.''
The search was based on the location of the hull and a 400-square mile grid around that area, which included drift patterns and tides.
The hull wreckage has been towed to Neck Cove on Secretary Island where the Police Dive Squad are assessing the opportunities to dive around the wreckage.
This afternoon helicopters carried out close shoreline searches and looked at areas not already covered.
- APNZ