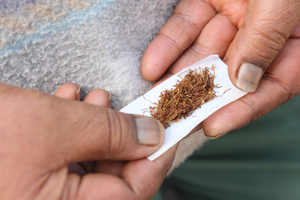 The Maori Party is pushing hard for an increase on the tobacco excise tax, but the Government is remaining tight-lipped on its plans.
Maori Party co-leader Tariana Turia said today that her party would do whatever it took to make the country smoke-free.
"We know that excise has been the best way, to date, at preventing the uptake. It's worked extremely well," she said.
"I would like to be confident that there might be more, but I don't know whether there'll be a greater increase at all, that hasn't been told to us."
Mrs Turia said while some people saw smoke-free New Zealand as a pipe dream, that had to be the ultimate aspiration.
"At the moment, we have 5000 people dying a year, 13 people a day, I can not understand why we continue to allow a product that kills to be sold in this country."
Mana Party leader Hone Harawira also supported the proposal for a further increase, praising Mrs Turia for the work she had done on the issue.
The Government has brought in three 10 per cent increases to excise duty tax on tobacco since 2010 - the most recent on January 1, when the tax jumped to 14.5 per cent.
Prime Minister John Key was today positive about the effects of the previous increases, but would not give away any clues about whether the May 24 Budget might have more in store.
"We've raised excise before, it's been very successful in raising revenue and also in terms of reducing the numbers of people smoking, I think that's been a good thing," he said.
"The Maori Party have lobbied us hard to make further changes, but you'll just have to wait and see until May 24."
Finance Minister Bill English was also quiet on the matter, saying "I'm not ruling anything in or anything out".
- APNZ